I recently witnessed a girl getting embarrassed after her butiiti (waist beads) spilled as she disembarked from a taxi.The numerous boda boda riders present had a field day making fun of her.
By Gladys Kalibala
I recently witnessed a girl getting embarrassed after her butiiti (waist beads) spilled as she disembarked from a taxi.
The numerous boda boda riders present had a field day making fun of her. The poor girl could not even bend to pick the broken string and the beads which had scattered all over the place. So the boda boda riders started picking them up and calling out to her to undress so they could help her tie them back round her waist.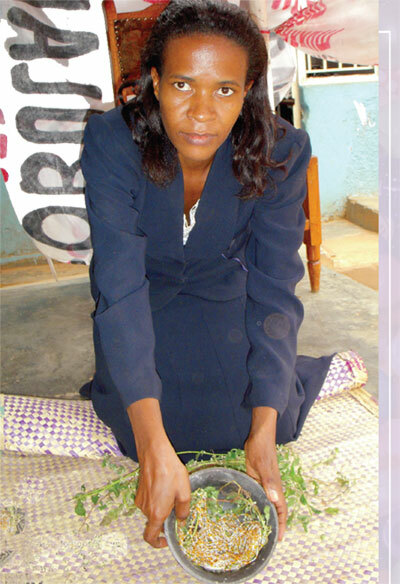 An elderly woman in the taxi blamed the girl for moving about with butiiti which to her are a "bedroom accessory". To her, the girl deserved her plight so that she could learn what culture says about butiiti.

Modern fashion statement?
When I asked young ladies why they openly wear butiiti, I was told that it is fashionable to wear them, especially below skimpy tops matched with jean trousers.

Origin of Butiiti
According to Senga Teo Musanyusa, the President of 'Ebanguliro ly'omukwano' in Makindye, which prepares young men and girls for marriage, the butiiti are believed to have originated from Bunyoro a long time ago.

Before the advent of butiiti, Baganda women used to tie a string of dry pieces of wood around their waists.

"The pieces had holes through which a string would join them together, but the women found them uncomfortable," Musanyusa explains. The Baganda later introduced ensimbi enganda (cowrie shells) to replace the pieces of wood.
These were later replaced by big beads of different colours. "In those days, the Baganda used to go to Bunyoro in search of wealth and protection in the form of mayembe (witchcraft).

They discovered that the mayembe which provided riches and kept families in good health were always in the form of butiiti (tiny beads) which the Banyoro called bukwanzi," Musanyusa explains.

The Baganda realised the bukwanzi could replace the big beads they were using to decorate their waists and so they went to Bunyoro, collected them and turned them into the waist beads that are today called butiiti, leaving their big beads to baby girls. It is believed the big beads help to shape girls' waists.

Musanyusa says the butiiti proved to be a more comfortable alternative for the Baganda women during lovemaking. It was the perfect accessory for Baganda women, who did not want to go to bed with their husbands with bare waists.

Significance of 'Butiiti
Musanyusa explains that the butiiti are a private bedroom accessory meant to add pleasure to lovemaking. She explains that a woman should not go beyond the bedroom door wearing the butiiti.

"It is taboo to move with butiiti to the sitting room as a woman is supposed to remove them after sex," Musanyusa says. She also cautions women not to bathe with their butiiti on as the water weakens the strings.

She explains that in Buganda it was taboo to use a set of butiiti on more than one man which explains why they never left the couple's bedroom.

Although stories are told of men who would have children with the neighbours' wives, Musanyusa explains that in such incidences of adultery, the woman could not use the butiiti when having sex with that man.

"Since adultery was often committed during the lumbe (burial ceremonies) or wedding celebrations in the neighbourhood, they had to do it without the butiiti," she adds.

Mrs Elizabeth Masaba, a renowned marriage counsellor, says butiiti can help stimulate even an impotent man.
However, Sanyu Nalongo, a member of Mother's Union at St. Mark's Church Namate, Entebbe, warns that the butiiti alone may not be enough to make sex enjoyable if the man has not been trained properly in the art of lovemaking.

She says many who train themselves at times get it wrong throughout their lives, leaving their partners unsatisfied.

How butiiti are used
In the African culture, it was unusual for a woman to ask for sex even from her husband. For this reason a Muganda woman was trained by her senga (aunt) to use the butiiti as an invitation to her husband whenever she was in the mood for it.

"She would just tie the beads around her waist as she entered the bed and the man would understand what she wanted," Musanyusa says.

She, however, adds that since it is common knowledge that most men would like to have sex every day, don't expect them to wait until you put the butiiti around your waist.
A woman was trained that once her husband started caressing her body, she had to reach out for her butiiti, which were always kept near the bed, and wrap them around her waist. Musanyusa explains that the man is expected to play with the beads around his wife's waist in order to put her in
the mood for sex.

"The noise made by the butiiti as you twist them around her waist has the same effect a lullaby has on a baby. If a man handles the butiiti properly, the woman's mind will open up and she will be ready for him within a few minutes," she advises.

This, she stresses, was important because if you did not find your wife with her butiiti on, it meant she was not ready for sex. "What men should know is that this woman will be the one to show you the entrance when she is finally ready instead of forcefully finding your way." Musanyusa says men should respect their partners' needs.

She reminds women that the butiit
Butiiti: Secrets of waist beads