PASTOR Robert Kayanja of Rubaga Miracle Centre church testified against six people including four pastors who are accused of conspiring to tarnish his reputation
By Andante Okanya
PASTOR Robert Kayanja of Rubaga Miracle Centre church yesterday testified against six people including four pastors who are accused of conspiring to tarnish his reputation.
He made his much-anticipated appearance at Buganda Road Court in Kampala where the trial is being heard by Grade One Magistrate Patrick Wekesa.
The accused are pastors Solomon Male of Arising for Christ Ministries, Martin Sempa of Makerere Community Church, plus Michael Kyazze and Robert Kayiira of Omega Healing Centre. Also accused is businesswoman Dorothy Kyomuhendo, and local musician David Mukalazi.
Kayanja narrated how the accused concocted a story by parading two boys, one Samson Mukisa and Robson Matovu, to claim that he sodomised them.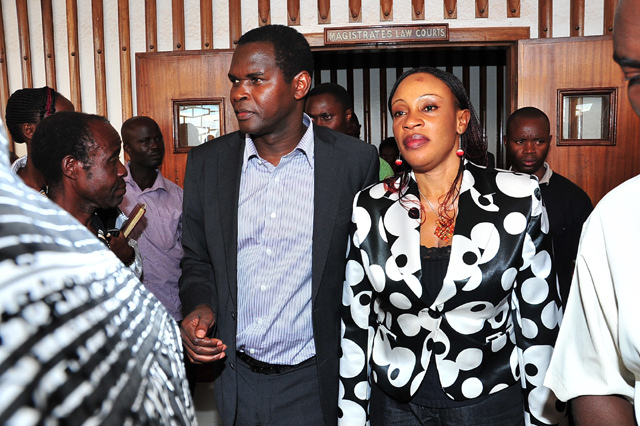 Kayanja was accompanied to court by his wife Jessica Kayanja
Prosecution led by Stephen Asaba, alleges that in 2008 at various places within Kampala district, the accused "conspired to cause injury to Kayanja's personality and reputation.
Kayanja said an anti-sodomy awareness campaign that started from Omega Healing Centre, was publicised both  locally and internationally, which tainted his reputation.
"The campaign spread beyond Omega to various churches, radio stations and even overseas in the United States of America plus the United Kingdom. In this day of the internet, it became a big issue,"Kayanja said
Kayanja who was accompanied to court by his wife Jessica Kayanja, said he wrote to the Inspector General of Police  Maj. Gen. Kale Kayihura protesting the tarnishing of his name.
The accused lawyers were Paul Rutisya, Kato Sekabanja, and Edward Akankwasa.
Kayanja testifies against accused pastors