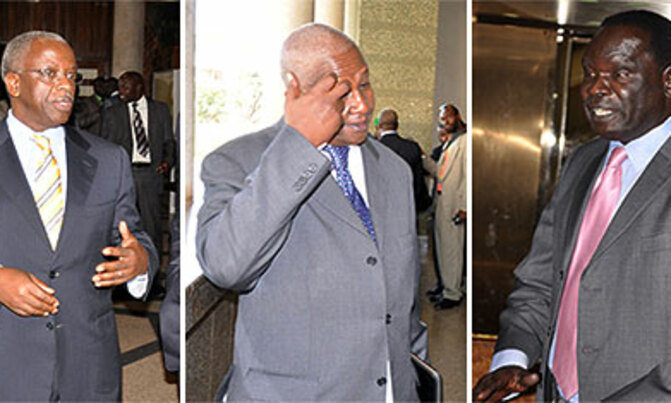 THE three ministers implicated in the recently concluded plenary debate on the oil sector have come out to shield themselves from the said allegations.
THE three ministers implicated in the recently concluded plenary debate on the oil sector have come out to shield themselves from the said allegations.

Mbabazi denies the accusations
PRIME Minister Amama Mbabazi has denied allegations that his daughter owned a company doing business with oil companies. 
He also refuted accusations that he had received any bribe from one of the oil companies. 
Mbabazi had been accused of having received funds to front for Italian oil company ENI to buy off Heritage shares. 
"Yesterday, Theodore Ssekikubo told the House that my daughter, Nina Mbabazi, owned a park yard used by oil companies for equipment in Kampala. I did investigations and I discovered that the firm was owned by Mineral Services Limited," Mbabazi said, tabling documents showing the managers of the company.
Mbabazi said records from the registrar of companies indicate that the company belonged to Geoffrey, Patrick Kimbaleba and Edward Kabucu.
"I have absolutely nothing to hide. My daughter has absolutely nothing to do with this business. She does not own a business of that kind," he said.
He, however, said there was nothing wrong with his daughter engaging in any business even if it is with Tullow Oil. "Even if she had such business, what crime is that? In any case my children do not need permission from me to do any business," he said.
Mbabazi also read out several letters authored by different Tullow officials. One of the letters was addressed to the President, while another was addressed to the Speaker of Parliament, Rebecca Kadaga.  
In a surprise move, Mbabazi read out a letter addressed to Kadaga before she could open her own sealed copy, prompting questions from MPs as to how he accessed the letter before she received it.
The letter was delivered to Kadaga during the parliamentary proceedings. 
In the letter, Tullow Oil threatened to sue Youth MP Gerald Karuhanga or any other person who would repeat the bribery accusations outside parliamentary chambers. Mbabazi said the letter was issued by Tullow's corporate affairs officer Jimmy Kiberu.
Mbabazi also said in a letter written by Tullow's country manager Brian Glover to President Yoweri Museveni, Glover denied ever making such statements that Ugandan officials had asked for bribes.
"It should be noted that there was illegal theft of confidential documents from American embassies world over. It is absolutely false that I made such claims that Ugandan officials asked me for a bribe," Glover's letter to Museveni reads.
According to the letter, Glover said: "We will work closely with the ministers named to help clear their names."  This issue irked several MPs who demanded to know whether Mbabazi had turned himself into a defence lawyer for Tullow.
Okot Ogong (NRM) said the move by Mbabazi to read letters from Tullow was suspicious. 
"How do we believe a letter of a suspect? You remember there are mafia who are using all means to derail us," Okot said. 
Mbabazi said his submission was in his personal capacity and not as leader of government business. 
He was cut short after Makindye West MP Hussein Kyanjo moved a motion to stop him.
Kutesa says he is innocent
Foreign affairs minister Sam Kutesa yesterday distanced himself from accusations that he received bribes from Tullow Oil.
Kutesa, who is alleged to have received 17m Euros (about sh65b), was booed by fellow MPs when he stood to give his defence.
He insisted that he was innocent, adding that "common practice provides that everyone is free to defend themselves. I am an MP and I stand here to contribute to this motion". 
Kutesa said he welcomed the motion, saying it was healthy to discuss oil since it was a public matter. 
"I want to welcome the free atmosphere of this discourse. This Parliament is vibrant and it is good that it is keeping individuals accountable. But it is equally important to debate the matter factually and responsibly backed by a desire to set a correct record," Kutesa argued. 
He, however, added: "If we use incorrect methods, we will be entrenching corruption instead of curbing it." 
Throughout his submission, the MPs kept booing and shouting him down, asking; "Why you?"
Kutesa annoyed MPs when he said he had never seen a single account with such huge sums of money (sh65b).
"What kind of service would I have rendered to receive 17m euros?" he asked. 
The minister said the information that he had received a bribe had been in circulation for over a year. He said the documents were first brought by Andrew Mwenda, a journalist with the Independent Magazine, who also reported the matter to the Police.
"The Police ordered investigations by a Police officer called Ndungutse who contacted the British Metropolitan Police to enable him investigate EFG bank in the UK," Kutesa said.
He said the investigations carried out by Ndungutse found that the documents were forged and that Tullow did not have such an account in the UK. Kutesa also denied that he had bank accounts in Zurich and the United Arab Emirates as his accusers had claimed.
Kutesa concluded: "The people of Uganda are not fools. They can tell falsehoods and the truth. The investigations were concluded and th
Accused ministers defend self
Fill in your Name and Email Address to receive a Free Newsletter