When we start riding the cool Kayoola buses
May 25, 2020
They have provided USB ports in this electric bus to keep our phone battery stable so as to send that important text before the battery runs out. And guess what - who would not jump on a bus that provides free Wi-Fi?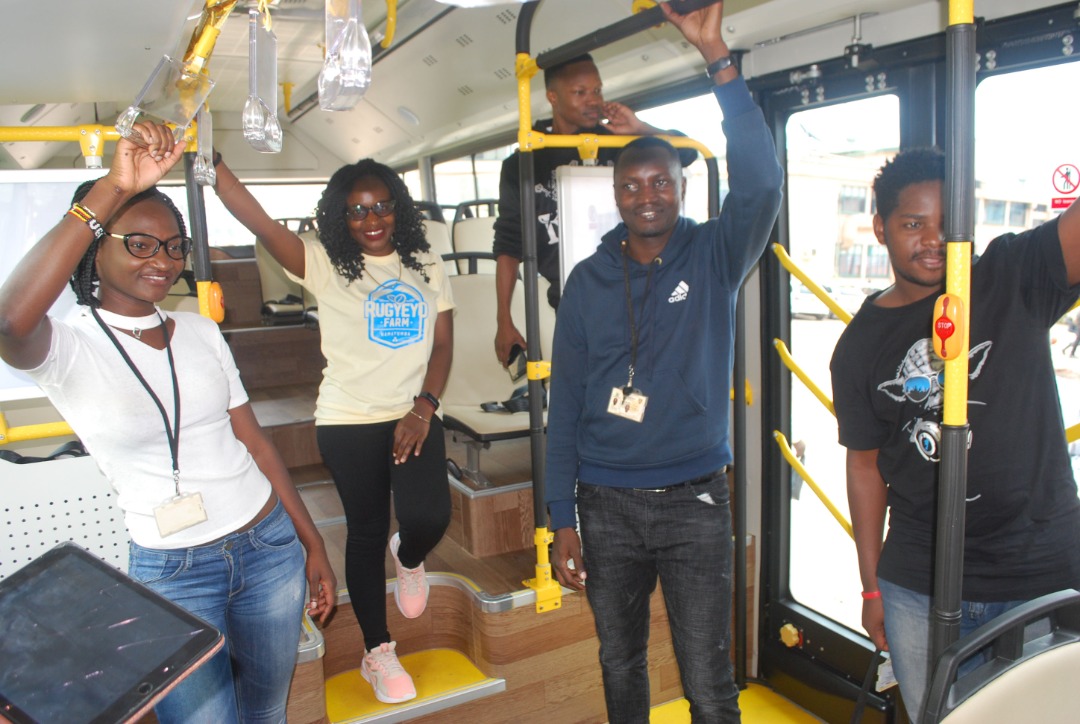 KAYOOLA BUSINNOVATIONLIFESTYLE
In a few years, I will climb to the third floor like many Ugandans who were born in the '90s. Well, some of them drive cars registered in their names, husband's names or family names but many of us don't fit in these groups.
With the help of public transport, there are no drawbacks connecting to the rest of the country.
The taxis, buses and mostly boda bodas have come to our rescue whenever we are on the move. The discomfort I have endured for the past twenty something years using matatus explains why I downloaded all the boda boda apps on my phones.
As Coronavirus ravages on, the apps may be left for deliveries and the search for another safe alternative means of transport should be adapted even when the national lockdown is finally lifted.
On Friday, I was joined with a handful of journalists for a roadshow aimed at showing Kayoola Electric Vehicle's potential in compliance with the safety measures as the world grapples with the pandemic. I must say I was impressed.
Friday came and #KayoolaEVS came to me.
Lets ride with @KiiraMotors pic.twitter.com/ZmHGnHhH2M

— Ruth Nasejje *Esther🇺🇬 (@ruthdavoice) May 22, 2020
Embarking on to the bus for the second time since the test drive routines late last year, I was amazed how the Kiira Motors team intends to protect the passenger and the bus attendants from the invisible plague. Right at the entrance of the bus, a mounted hand sanitiser uses a sensor that automatically sprays your hands.
The Future of Mobility.
This is how @KiiraMotors intends to fight the spread of #COVIDー19 when passengers start using the Kayoola Electric Bus. @ruthdavoice shares her experience. #VisionUpdates pic.twitter.com/gaBglhfUL7

— The New Vision (@newvisionwire) May 22, 2020
Before public transport was suspended two months ago, taxi drivers or conductors in the Old Taxi Park would stand at taxi doors and manually spray soapy liquid in the hands of every passenger who boarded their taxi. Such an innovation I advise should be adapted to save time and energy.
When Kayoola buses get buyers to finally operate on Uganda's roads, many of us will enjoy using them on a hot day because of their air conditioner. Well, this might be a risk in the COVID-19 era but since we will be wearing facemasks that is already taken care of.
Kayoola EVS officially enters the city. @VisionGroup staff given a ride around the industrial area. #VisionUpdates

📷: @mulondolaw pic.twitter.com/whlidKKnQ7

— The New Vision (@newvisionwire) December 6, 2019
The last group so far to enjoy the full, unrestrained cool Kayoola ambiance were the European Union delegates who convened at Speke Resort Munyonyo in November last year.
Though designed to carry 90 plus passengers, last Friday we were a handful in the bus, so we had more than enough leg room on the classy floor made from Ugandan bamboo! I got busy enjoying the amenities on the fully electric bus designed and built in Uganda by Ugandans.
I am a generation that wakes up to check my phone, spend the entire day checking my phone every after 20 minutes and will go to bed at night after realizing there is no new important notification on phone. I am not alone, the reason they have provided USB ports in this electric bus to keep our phone battery stable to send that important text before the battery runs out. And guess what - who would not jump on a bus that provides free Wi-Fi?
People with disabilities have never been provided for in our public transport, until Kayoola which has special features for them. A ramp rolls out to receive them and three special seats are reserved for them to enjoy the new face of Ugandan made vehicles.
Sailing through Industrial Area to the roundabout before the Electoral Commission and back on Jinja Road through Lugogo by pass to the first stop at the Uganda museum got me thinking how lucky Ugandans in my category of public transport users will forget the 'usual' potholes on our roads when we start using the Kayoola because you barely feel anything as the comfortable glides over them.
I am certain I will stop asking for lifts and forget about pressuring people to teach me how to drive when this becomes our way of moving about in Kampala. Those who own cars will surely join us in the end.
The Roadshow proceed to City square where we spent some 30 good minutes as I ended up taking pictures for people's who boldly stated, "I need a picture to upload on Facebook". Who was I to deny them their "likes" and engagement on a Friday afternoon?
But the KMC team requested we make our return journey leaving the accumulating crowd behind before we could be accused of breaking the Covid guidelines.
After dropping off some colleagues at their office, I sat quietly leaving my legs to rest on the floor, marveling at how marvelous Uganda's bamboo feels. All the plastic in the bus is also made in Uganda, so this was also a complete local content and BUBU experience in action.
My thoughts were interrupted by my own name, then I realized we had reached the New Vision in Industrial Area and Allan Muhumuza the KMC Business Development Manager was calling telling me to step out and get back to work!