Is Uganda's film industry a potential gold mine?

"We have received several tourists to Uganda who had watched the Last King of Scotland, or the Queen of Katwe. Film reac ... "We have received several tourists to Uganda who had watched the Last King of Scotland, or the Queen of Katwe. Film reaches a wide global audience," - Irunga (UTB)
FILM INDUSTRY

A long list of names of tourists from far-flung places, such as the United States, Germany and Switzerland fill up the walls of the Wakaliwood studios in the squalid slums of Wakaliga, Kampala.

Wakaliwood, which was started by Isaac Geoffrey Godfrey Nabwana in 2010, is located in one of the lowest and most flood-prone city suburbs of Wakaliga.

Nabwana built the main home himself using bricks he baked and, there, he and his wife, Harriet, share the main bedroom with their three children.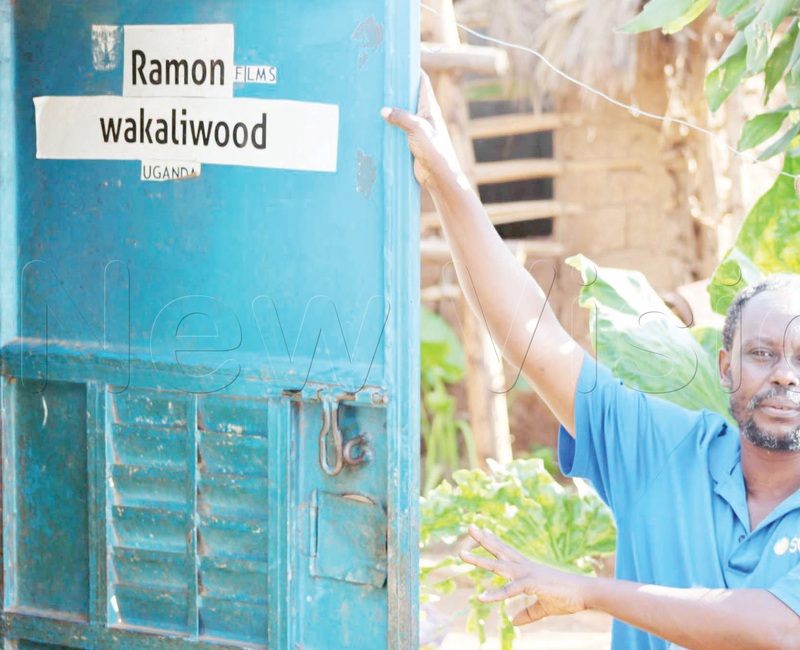 In-laws and tenants dwell in the remaining rooms. There is no running water and power cuts are frequent. In the compound beyond the house is the rehearsal space, a recording studio, four back rooms for tenants and a shack that sells scrap metal.

It is hard to imagine that anything good could come out of the shacks, dirt paths and trenches in Wakaliga, but you would be wrong. Wakaliwood has risen to global prominence.

On the walls of one of the rooms in the Wakaliwood studios is a list of 500 tourists who fl y into the country to "die" in one of his movies. Among them is Swiss couple Anna Soninie and Daniel Kiinzler who travelled 6,000 miles to spend their honeymoon in this Ugandan ghetto.

Nabwana said Soninie and Kiinzler had to rely on directions from Google maps since the local boda-boda riders that brought the tourists had no idea where Wakaliwood is located.

The couple had watched the globally renowned Who Killed Captain Alex, an $85 (about sh313,409.96) action-comedy film written, produced and directed by Nabwana. The official trailer of the fi lm had registered 4.5 million views on YouTube by press time.

The movie has received global attention, attracting Hollywood greats, such as Alan Hofmanis, a film festival director based in New York City, who travelled to Uganda and has helped expose Wakaliwood to the global film industry.

Nabwana has mastered the art of using everyday household items, such as frying pans, and PVC pipes as mock rocket launchers and condoms filled with red dye for exploding squibs.

Wakaliwood inspired by imagination. Nabwana, who drew a lot of inspiration from a helicopter gunship that playfully chased him and his siblings "during the war, that ultimately ended the Idi Amin regime in 1979", said he had not visited a Cinema, until last year.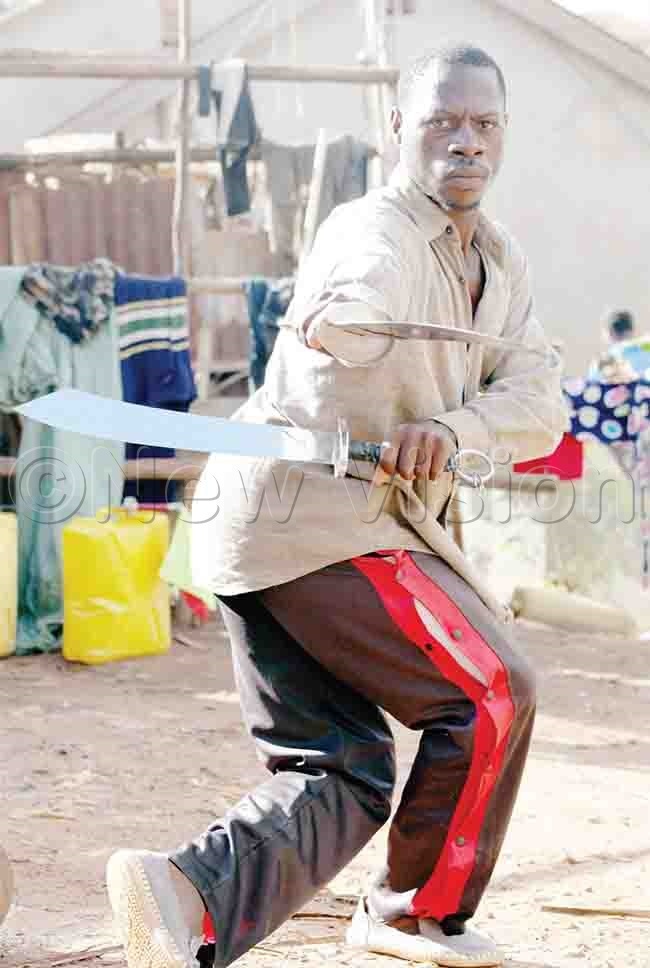 Nonetheless, he was fascinated by Kung Fu and Chuck movies through his older brother's passionate descriptions. He says his brother's recollections inspired him to draw out the images in his exercise books. He even tried back flips and Karate kicks.

My parents could not allow me to visit cinema halls because they believed movies spoiled children. So, I did not go. But lucky enough, my brother, Robert, used to sneak and go to watch the movies. So he could come back and tell me the story," Nabwana pointed out.

Nabwana studied up to Senior Six and worked as a casual labourer on building sites before he gathered the guts to defy his naysayers and launch his film production company called Ramon productions.

The actors receive a margin on the DVDs proceeds in Uganda's major towns of Mbale, Jinja and Mbarara and can count on a roof over their heads. There

were only two or three local active film production companies by 2008, but the number has swollen to over 500, according to internet data.

"If we rely on our talent, we can compete with anyone because talent is God-given," Nabwana says. "The film industry can employ everyone, right from an unborn baby," he said of the potential of the industry.

What the experts say

The global theatrical and home entertainment market generated $96.8b (about sh357 trillion) in 2018, a 9% increase in 2017, according to a new report from the Motion Picture Association of America (MPAA).

In order to improve the quality of the fi lm industry and maximize the tourism value of the film industry, the Uganda Tourism Board (UTB) and the Uganda Communications Commission (UCC) last year signed a memorandum of understanding to promote film.
Daniel Irunga, a UTB senior marketing officer, said films open up Uganda as a destination to several tourists.

"We have received several tourists to Uganda who had watched the Last King of Scotland, or the Queen of Katwe. Film reaches a wider global audience," he said

Ibrahim Bbossa, the UCC head of Public and international relations, pointed out that the film industry has provided a big economic stimulus to countries such as Nigeria, Ghana, India, South Africa and Kenya and has the potential to do the same for Uganda.

He pointed out that the film industry employs a cross-section of people, employs a cross-section of people, is dominated by small budget films estimated at between sh10m to sh30m.

"We need the right legal and regulatory environment to attract the international movies with budgets of $20m (about sh73b) or more, to take advantage of our nice weather, actors and facilities," he said.

Film is an untapped resource Uganda's economy could substantially benefit from film if the quality of storytelling improves, Nana Kagga, a renowned Ugandan actress, filmmaker and engineer said.

Kagga is also the chief executive officer of Savannah Moon Ltd, a movie production company which has created films such as, The Life, which was shown on M-NET and the popular series Beneath the Lies.

"The potential of the industry is unparalleled. Film influences culture, politics, the economy and the future generations. We need to tell stories that tell the good things about Uganda. NGOs make a lot of money by showing negative stories," Kagga said.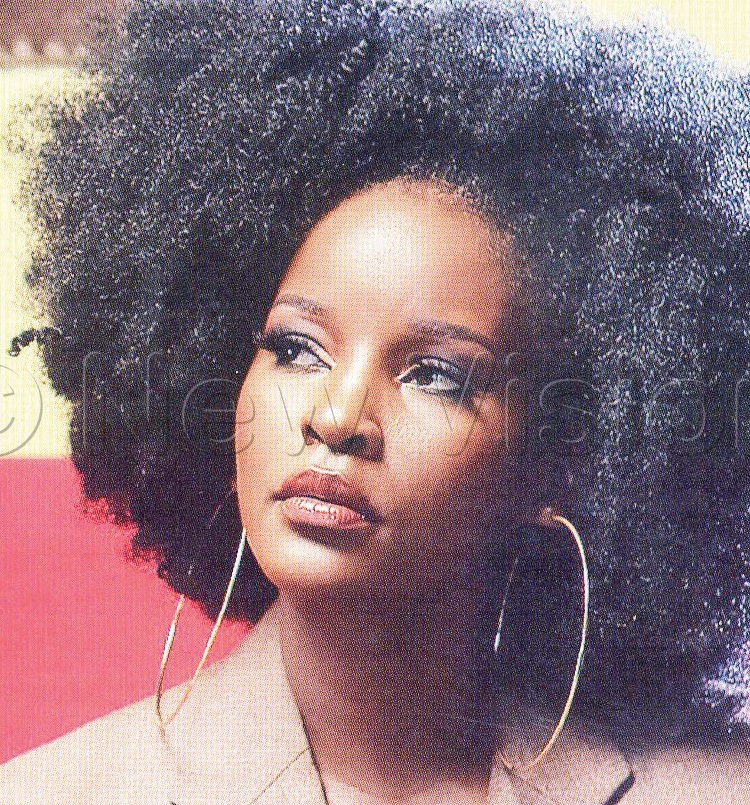 She explained that there is a need to nurture a culture of storytelling, especially around the positive aspects of Uganda. In order for this to happen, she said local television should air local movies and government should provide marketing and distribution support.

Kagga explained that lowering taxes on international films shot in Uganda will make the country more competitive against other popular movie destinations, such as South Africa. She also said international movies facilitate the transfer of skills for actors and technical crew.

"In some countries, the government requires that the equipment used to shoot international films is left in the country at the end of production. We could learn from this and from South Africa," she said.

Kagga also said Kampala's heavy traffic jam poses a logistical challenge, she adding that Ugandans should be willing to offer free locations for shooting film scenes since the benefits of appearing in films are enormous.

She also said the film industry needs pay structures, to avoid exploitation of actors and the crew.

Fanny Martinez, an expert on marketing strategies, said Uganda's fi lm industry requires a robust association that will protect ideas from being stolen. She added that there is need for a fi lm school to train actors, scriptwriters and technical crew.