KNOW YOUR STAR: Wokorach shines in French League

Philip Wokorach is enjoying life in France, where he features for a third division club Bourges XV that he joined last y ... Philip Wokorach is enjoying life in France, where he features for a third division club Bourges XV that he joined last year. We had an interview with him about his journey in the sport.
Uganda's Philip Wokorach takes on Zimbabwean players. PHOTOS: Johnson Were
Featuring at the highest level in professional rugby remains a top priority for star player Philip Wokorach. The player is enjoying life in France, where he features for a third division club Bourges XV. He joined the club last year. We had an interview with the player about his journey in the sport.

Question: Who is Philip Wokorach?
I am a Ugandan rugby player. Currently, I play for French third division rugby club Bourges XV in the back-line department. I also play for Uganda's national rugby 7s and 15s teams. I was born on December 31, 1993 in Nakawa and at primary level, I started playing in the totos rugby event.

Qn: How did you join rugby?
As I said earlier on, I started playing rugby when still a kid in Nakawa near Kyadondo Rugby Club. For those who do not know Kyadondo, it is the home of rugby in Uganda. I played in the totos rugby event that turned into tag rugby around 2002. I later moved to the Kyadondo Balenzi team that went for games in England. Later, I moved to Stallions formerly Saracens, then to Buffaloes before switching to the senior side Heathens where I won many man of the match accolades and national league trophies.

Qn: How did you find life in Heathens?
Very easy. I had been tested and proven by progressively moving from one club to the other until I featured for Buffaloes which was as strong as Heathens. Therefore, I found no challenges along the way.
Wokorach (r) goes down after being tackled by a Kenyan player
Wokorach beats a kenyan player to score a try against Kenya
Qn: How did you end up in France?
In 2014, I went to Kenya. I played in the Kenya national 7s circuit with Pius Ogena and Emmanuel Ecodu. We impressed the Kenyans because of our talent. In 2017, I signed a con tract with Kabras and played for two seasons before heading to France.
Qn: How do you compare rugby in Kenya and Uganda?
The Kenyans are more serious, and their game is at a high level. Uganda has more talented players than Kenya and they respect us. But we lack facilities and managing the sport professionally. The Kenyans are physically fine, competitive and work hard. Besides having good facilities, the Kenyans are paid well. In fact, the sport in Kenya enabled me to prepare well before moving to France. In France, there are professional training programmes and facilities and players are paid well. They are there-fore motivated to play well. I am confident that if there are good facilities in Uganda like in Kenya, more players will join the professional ranks.

Qn: How is the sport and lifestyle in France?
Just like it is in Kenya, there is need for dedication and commitment because of the nature of rugby in France. Everyone in France is a hard-working person and they do value time management. The people in France are welcoming and have made me feel at home. However, my challenge was the language and currently it is the weather because during winter, it is very cold. However, I am a fighter and such issues cannot stop me from going for my goals.

Qn: What are your goals?
My dream has always been playing in the topflight league in France and I will not rest until I am there. I am working for that and to play for Uganda in the 15s Rugby World Cup.
Wokorach (r) goes down after being tackled by a Kenyan player
Qn: Do you think you will achieve your goal of playing in the topflight given the talent in France?
I told you we have talented players in Uganda. Actually, all the national 7s team players are talented enough and can fi t very well in the sport in France. They need exposure and facilities. Kenya beats us because they employ white people who do things profession-ally. But we are far better than them in terms of talent. If coach Tolbert (Onyango) gets an assistant coach who is a white, Kenya and many other countries will just dream of beating us.

Qn: You talk of talent, why do the players you refer to not compete at a professional level?
To make a breakthrough, you must be dedicated, committed and focused. However, you must also have facilities like gyms, qualified professional coaches and good medical care. I appeal to all players to discover their strengths and weaknesses and then try to improve. We all know there are challenges, but we have to make sacrifices because there is no gain without pain. Uganda Rugby Union should also try to provide better facilities and training programmes for players. The players should also get exposure by participating in international tournaments.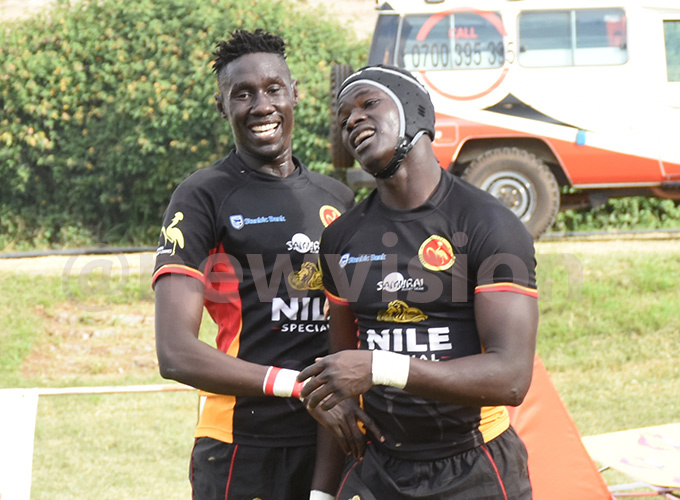 Wokorach (r) shares a light moment with a teammate
Qn: You are heading to Chile and Uruguay. What should we expect from you?
We will be there to fly our country's flag high and our main target is to qualify for the Hong Kong 7s. (Chile and Uruguay will host the World Rugby 7s Challenger Series set for February 15-16 and 22-23 respectively).So, there is need for teamwork and we shall do whatever it takes to qualify for Hong Kong 7s. We are also targeting the World Rugby HSBC 7s series. It is also an opportunity for our players to showcase what they have because many scouts are always at such tournaments.

WHAT THEY SAY

Levis Ocen (Daystar University rugby player)
He is a good and social person. He interacts with any player and is one that encourages other players to stay focused in the sport and work hard. To me, he is my mentor and I would love to play with him again at a professional level.

Michael Wokorach (Heathens player)
He is a very talented and dependable player. He is also disciplined and interacts with all players regard-less of which club they belong to. This could be the reason why he fi ts easily in all the clubs he plays for. I think if we had six of such dedicated players on the national team, we would be a world class side.

Tolbert Onyango (National team coach)
Philip Wokorach is a good player. He is a hardworking, focused and a deter-mined player but on top of all this, he is disciplined. He inter-acts with fellow players and he is one who motivates young ones by encouraging them to stay focused in the game, work hard and play at a high level.

KNOW YOUR STAR
Favourite meal: Posho and beans
Favourite artiste: Sheebah
Favourite phone: iphone
Dream car: Range Rover Sport
FACT FILE
Name: Philip Wokorach
Nickname: Ojusi
Age: 26 years
Club: Bourges XV (France)On Instagram, Facebook, Email, WhatsApp, Twitter:yes
Honours: Nile Special/USPA rugby player of the year (2018, 2017), MVP at Kabras Rugby Club in Kenya (2018), Africa 7s champion (2017, 2016)