Meet Uganda Cranes greatest XI of all time James Bakama looks back over the decades at the Crème de la Crème that constitutes this dream Cranes 11.
Numerous stars have donned the Cranes jersey. But who are those footballers who stand head and shoulders above the rest.
James Bakama looks back over the decades at the Crème de la Crème that constitutes this dream Cranes 11.
1 -Paul Ssali
Ssali is undoubtedly the top man ever between Uganda's goalposts. He kept sentry as the Cranes cruised to their best ever performance-a runners-up finish at the 1978 Africa Cup of Nations.
His game reading, acrobatic saving abilities together with superb performance in one-against-one situations set him on top of the country's best goalkeepers' list.
Paul Ssali edges out Dennis Onyango to take the title of greatest goalkeeper Uganda has ever seen. File Photo
2- Eddy Ssemwanga
The Maroons and Masaka Union right-back was solid with great game reading, defending abilities and overlapping.
He was part of that golden Cranes side that won an African silver medal in 1978.
3- Ashe Mukasa
The Express, KCCA, and NIC defender had everything a left fullback needs-powerful body, boundless stamina, good game reading, speed and accurate feet.
He was also part of Uganda's 1978 Africa silver medal squad.
4- Ahmed Doka
This is one of the most tightly contested for positions. With talents like Tom Lwanga and Paul Hasule, Doka stands out for being slightly better.
The hard-tackling center back was referred to as the Berlin Wall for his hard-to-beat qualities. But besides that, he was also good going forward with deft passes and penetrative runs.
He formed an integral part of the great Cranes and Simba side of the 1970s.
5-Jimmy Kirunda
Like German legend Franz Beckenbauer, Kirunda was for long the dynamo that propelled the Cranes.
Besides his superb defensive abilities, the towering player was also outstanding in the attack. His runs deep into the opponents' area created scoring chances. No wonder he was regularly on the score sheet. Is it, therefore, surprising that in 1978 when he played as a center forward he was league top scorer with 32 goals?
His leadership skills have him as Cranes' longest-serving skipper, a role he also had with KCCA.
Jimmy Kirunda introduces players to Otema Alimadi, then Prime Minister in the early 1980s.File Photo
6- Mike "Computer" Kiganda
He had that rare ability of effortlessly breaking up attacks then immediately launching them in the opposite direction. When in attack his dribbling, passing and penetrative runs resulted in the sobriquet- Computer.
7- Stanley "Tank" Mubiru
Standing 5'5, Mubiru could have easily passed unnoticed but not for his muscular body, powerful runs on the right flank and eye for goal.
He tore through defence lines before unleashing whistling shots that made him as one of the most dreaded wingers of his time.
8- Moses Nsereko
Popularly known as Kisolo kya manyi (Strong animal) he was the kingpin of Uganda's midfield. His strong physique coupled with an indomitable spirit, great game reading, passing and scoring abilities made him stand out.
He starred both Cranes and KCCA where he won many titles climaxing
with CECAFA club title in 1978. He was that year also part of Uganda's Africa silver medal-winning side. He was murdered in 1991.
Magid Musisi played for French side Stade Rennes. File Photo
Musisi attempts to go past George Ssimwogerere during a Cranes training session
9-Magid Musisi
He led SC Villa to the Africa Club Championship silver medal. While with the Jogoos, he top-scored in the Uganda Premier League four times.
The stocky striker was very swift and comfortable with both legs on the ball. He was equally lethal in the air and down, qualities, qualities which in 1992 caught the eye for French side Stade Rennes, making him the first Ugandan player to be signed as a professional in Europe. He later transferred to Turkey where he starred for premier league sides Bursaspor and Dardanelspor. He passed on in 2005.
Philip Omondi was arguably Uganda's greatest player of all time. File Photo
10- Phillip "Omo" Omondi
Like Diego Maradona, Omondi could do virtually anything with the ball. Ghanaian great and three-time African player of the year- Abedi Pele says he was inspired by Omondi.
In 1978 he top-scored for Uganda as they rose to their greatest moment- a Nations Cup silver. He had that rare quality of not only creating but also scoring goals.
The KCC star's dribbling skills were according to Kirunda unrivaled. He could waltz past opponents as he juggled the ball from the head, shoulder, chest, knees, and feet before scoring in empty nets.
The nickname Omo, picked from a popular detergent, followed his five-goal whitewash of club arch-rivals Express. Interestingly, it was also a befitting short form of his name, Omondi. KCCA in 2016 immortalized him by naming their Lugogo stadium after him.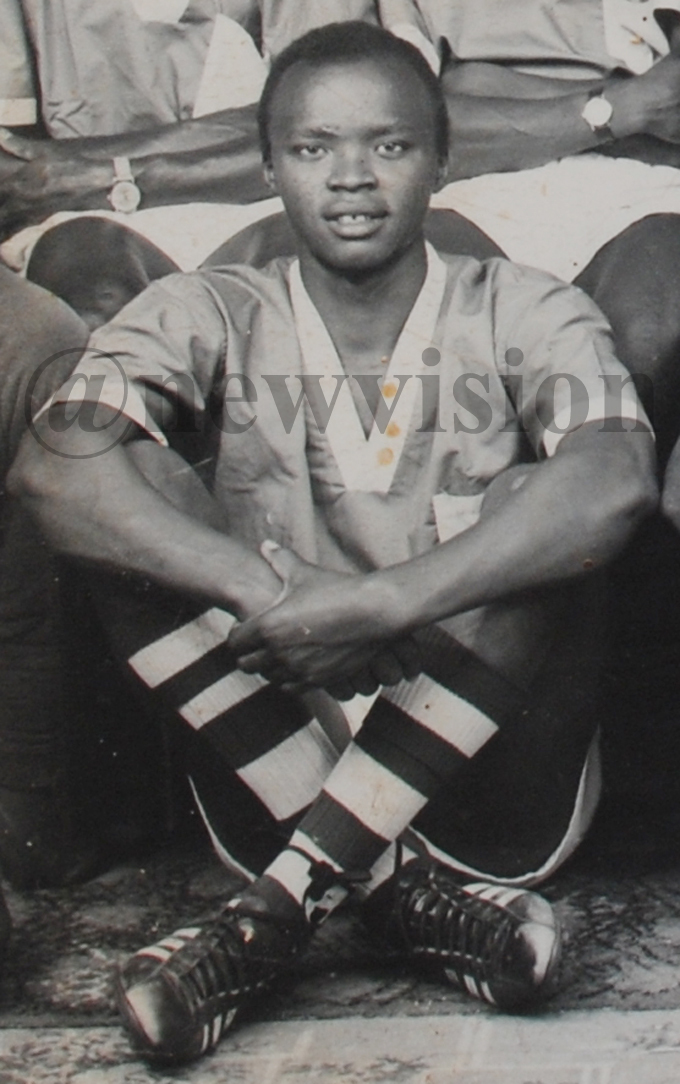 Dennis Obua is the father of former Cranes winger David Obua. File Photo
11-Dennis Obua
He was a swift left winger with good dribbling skills and a sharp shot.
Hailing from Lango region, he was one of the targets of dictator Idi Amin's rule and was indeed jailed in 1972. His incarceration resulted in one of football's memorable moments as fans pleaded for his release to enable him play for the Cranes.
The state paid heed to the public outcry. Without any training, Obua came on to score in a 5-2 African Nations Cup demolition of Somalia at Nakivubo.
Interestingly, as Obua scored, another member of the Langi tribe- John Akii-Bua, was also cruising into the history books as he won Uganda's first Olympic gold medal in a 400 meters hurdles world record time of 47.82 seconds.
Substitutes:
Denis Onyango- The Mamelodi Sundowns custodian is a CAF Champions League winner and two time Africa goalkeeper of the year winner. This is all on top of multiple awards in South Africa. His calmness and vast experience would greatly boost this team's bench.
Onyango has been voted Africa's best goalkeeper. File Photo
Sam Musenze- His skills and game reading were unparalleled at both full-back positions.
Tom Lwanga- Very skilled and smart player who always portrayed the colourful side of the game. His versatility at central defence and deep midfield would make him a key member of the bench.
Tom Lwanga was a very skilled and smart player. File Photo
Ibrahim Sekagya- Had almost the same qualities as Kirunda. But Kirunda edges him on goal scoring.
Sekagya has the same qualities as Kirunda
Paul "V8" Hasule- One of the best-attacking Cranes defenders ever. Could also switch to the attacking midfield role with huge dividends. The kind of substitute who would light up any kind of match.
Paul Hasule captained SC Villa for many years. File Photo
Francis Kulabigwo- A midfield workhorse that never seemed to tire. He was also a creative player who always created chances out of nothing.
Polly Ouma- A sharp center forward who could turn half-chances into goals. Very fast and effective with both feet. His leadership qualities were also crucial in motivating whichever team he played for.
Ouma turned half-chances into goals. File Photo
Godfrey Kateregga- A fine dribbler who also had a knack for goals and a thundering shot. The kind of player this team would rely on for goals in case of substitution.