Fresh UPDF recruitment of LDUs gets underway
Jul 15, 2019
The 17-day recruitment exercise aims at enhancing security in the country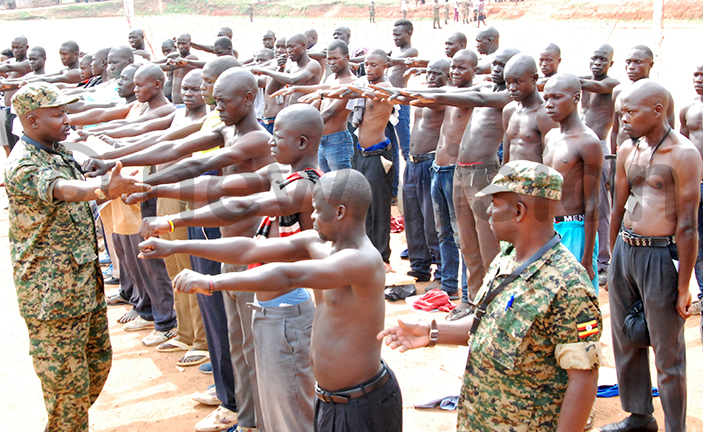 The Uganda People's Defence Forces (UPDF) fresh recruitment exercise of 1,300 Local Defence Unit (LDU) personnel from Central, Eastern, Northern and mid-Western Uganda has started today across the country.
The recruitment will mainly be conducted at various district and Parish headquarters.
Last week, the spokesperson of UPDF land forces, Lt. Col. Henry Obbo, said the 17-day recruitment exercise, which starts today, aims at enhancing security in the country.
"The recruitment is aimed at enhancing the existing foundation security arrangement in the country to ensure the people and their property are secured at grassroots levels," Obbo said.
The recruited LDUs, Obbo added, will be trained in basic military skills and then deployed in their respective districts.
UPDF yesterday also issued ten requirements, including a national identity card, medical fitness, primary and O-level qualifications and a clean criminal record, that citizens seeking to be recruited must present in order to be enlisted.
The call for fresh recruitment comes four months after over 6,000 LDU personnel, who were recruited last year, were deployed in the districts of Kampala, Wakiso and Mukono.
The 6,436 LDUs, who were recruited in October, last year, were trained at Oliver Tambo Military Training School in Kaweweta, Nakaseke district.
In his security address to the nation in September last year, President Yoweri Museveni, ordered for the recruitment of 24,000 LDUs, to among other things, beef up Police, the army and other security agencies, in the policing work across the country.
For the start, Museveni suggested, that the LDUs be deployed in the estimated 1, 000 villages that makeup Kampala, Wakiso and parts of Mukono districts, where pockets of organised crime were evident at the time.
By calling up the reserves, Museveni said, security presence, especially in urban centres, will be reinforced to counter city killings and plug up the gaps used by the killers.
"I have instructed that for the entire urban area, we will recruit 24, 000 LDU's. It will cost us an extra sh57b, but that is not a problem," Museveni said during his security address to the nation in September last year.
The high profile assassinations that sent a wave of shock among the public domain include that of former Buyende district police commander, Muhammed Kirumira, former Assistant Inspector General of Police, Andrew Felix Kaweesi, former Arua Municipality MP, Ibrahim Abiriga, Maj. Mohammed Kiggundu, the senior principal State Attorney, Joan Kagezi and Muslim clerics.
To tame the wave of urbanised crime, Museveni also ordered for the procurement and installation of CCTV cameras, and also commissioned the national surveillance system coordination centre of the CCTV footage at Natete Police Station.
Several CCTV cameras have since been mounted in various city centres to monitor to the city and its surroundings.