Calls for scientists to simplify information on biotechnology
Jul 19, 2017
Biotechnology is the use of living organisms to develop or make products, for specific use.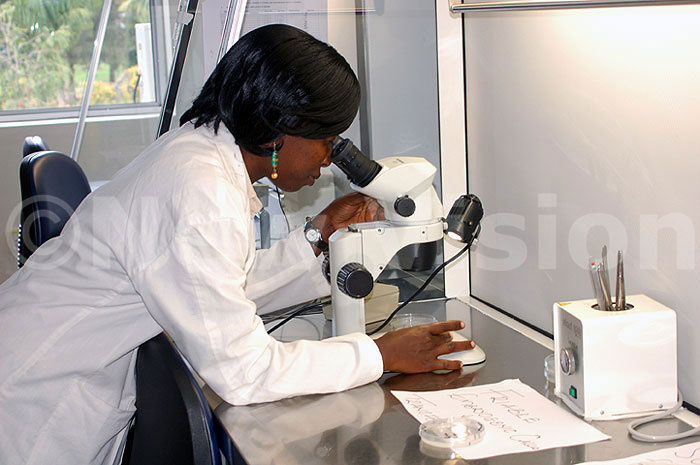 BIOTECHNOLOGY

Scientists have been asked to simplify information about their work and technologies for easier public comprehension.

Researchers are still failing to communicate biotechnology to the public, yet it is seen as something that will solve some of the food and nutrition challenges in the country.

Biotechnology involves the use of living organisms to develop or make products, for specific use. In the case of agriculture, the uses could be resistance of crops to pests and diseases, drought tolerance and yield enhancement.

Dr. Elioda Tumwesigye, the minister of science and innovation, said scientists still fail to explain the technology to fellow scientists yet they must explain the same to ordinary people.

He said this at a three-day meeting dubbed Agri-biotechnology and Biosafety Communication (ABBS) 2017 Africa Symposium in Entebbe.

The minister urged scientists to take advantage of the symposium to improve their communication skills.

The meeting was aimed at bringing together scientists and legislators to discuss and share innovative ways of relaying information on biosafety concerns to improve agriculture biotech and biosafety communications among scientists.

Tumwesigye asked scientists to explain the need for biotechnology using challenges facing the country today like low agriculture production, emerging crop pests and diseases, including the development of vaccines that could help in treating such diseases as hepatitis, leukemia and diabetes.

"Uganda's ability to have adequate and nutritious food is being challenged by the changing weather. Some people have died of hunger and those with some food are not eating enough. As a result, many are stunted."

He said that much as Ugandans can get food using traditional methods of breeding coupled with irrigation, traditional crops may still not survive due emerging pests and diseases like the fall army worm.

"They have identified genes that can be added into another plant to create resistance to pests and diseases, boost crop yield, increase production but this information is not being given to the public that way. What comes out is full of scientific jargon."

For effective communication, they will need training in communication so as to package their information adequately, said Dr. Mahaletchumy Arujana, executive director of Malaysian Biotechnology Information Center (MABIC).

She called on researchers to make use of the Uganda Biosciences Information and Innovation Center (UBIC) based at the National Crop Resources Research Institute (NaCRRI) in Namulonge, one of the research stations under National Agricultural Research Organisation (NARO).

The symposium at Lake Victoria Hotel is running under the theme 'Strengthening communication for improved biosafety management'.

It was organized by the International Service for the Acquisition of Agri-biotech Applications (ISAAA) with support from the Uganda National Council for Science and Technology (UNCST), NEPAD, COMESA, SCIFODE, ministry of agriculture among others.

Dr. Margret Karembu, the director of ISAAA, said the symposium brings together scientists from over ten countries including Uganda, South Africa, Cameroon, Nigeria, USA, Malaysia, Tanzania, Ghana, Malawi, Kenya.

Karembu said the theme was informed by the need to promote public awareness or regulatory systems to ensure safe and sustainable use research in development and commercialization of genetically modified crops in Africa.