Importation of food failing Agriculture Transformation in East Africa
Sep 06, 2016
The week-long meeting that kicked off on Monday is running under the theme Seize the Moment and Deliver Major New Investments for the African sector at the UN headquarters in Nairobi.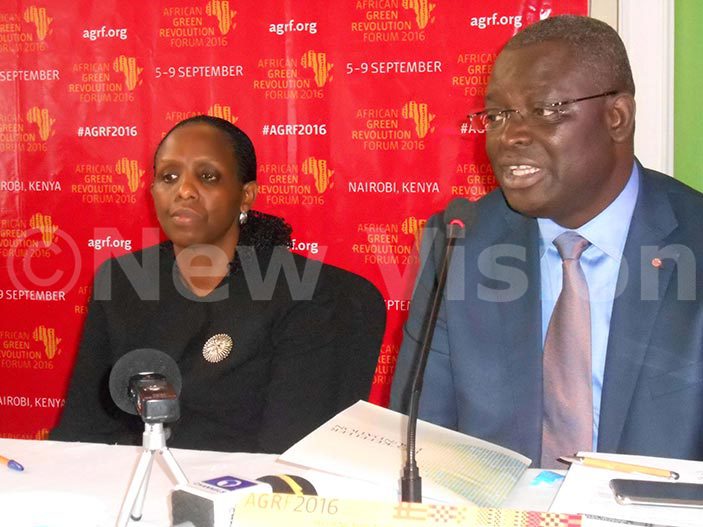 Continued importation of food items into East Africa will not transform agriculture from where it is today. This is so because the money meant to help a small holder farmer transform, is sent out of the country to buy from the other farmer.
For example, currently the East African region imports Rice work $35billion while Africa as a whole is spending close to $45billion on the same crop.This is according to the President of the African Green Revolution in Africa (AGRA) Dr.Agnes Kalibata. She was speaking at the launch of the sixth African Green Revolution Forum (AGRF) where stake holders including heads of state will brainstorm on ways of transforming.
The week-long meeting that kicked off on Monday is running under the theme Seize the Moment and Deliver Major New Investments for the African sector at the UN headquarters in Nairobi.
"We are sending out all this money in terms of jobs and opportunities for our farmers by importing food and sending the money to their counterparts, it is not helping us at all," said Kalibata.
And yet predictions from experts in trends of growing population indicated that in ten years time,the same continent will be importing rice work worth 110 billion."We need to come up with deliberate strategies to start growing our sector by making sure that the resources we send out to buy food, employ other people ,can be used to help farmers by enhancing their capacities so that they can produce what is needed,' Kalibata said.
She said the problem is not that small holders have no capacity to produce the needed amounts of food, lack incentives in form of finance, technology, quality seed and connections to the right markets. "To turn around that market, we should start giving our farmers the incentives ,connect them to markets, give the right technologies, help them get access to affordable finances, imports will be cut out because there will be adequate production," she added.
She however noted that the above agenda will not be achieved if people are not consuming what is produced within their respective countries."We also needs some pride in what we do why do you go for imported tealeaves yet your country is producing the same? It is like drinking imported tinned milk when you neighbor is milking his cows daily, who will consume our own?" wondered Kalibata.
Due to the above scenarios,agriculture has failed to translate into jobs because farmers are not adding value through processing,since all this is being transported in the raw form.
How Agra is supporting small holder farmers
AGRA is ensuring that farmers access quality seed that suits the environment, quality fertilizers suitable for individual regions, appropriate technology, and building systems for farmers within the village before looking at the outside market. This is being done with partnerships with the private sector, governments and development partners.
Helping farmers acquire simple storage facilities like the Hermetic silo could make a difference as it keeps the grain safe from moisture, insects and there is no chemical needed, which allows a farmer to sale at a higher market value ,added Mamadou Biteye, Managing director, Africa Rockefeller foundation.
Kenya's Cabinet secretary, Ministry of Agriculture Livestock and fisheries, Willy Bett said the meeting is an opportunity for leaders especially heads of state to recommit themselves into transforming agriculture.
Presidents Paul Kagame, of Rwanda, Uhuru Kenyatta of Kenya, John Dramani Mahama of Ghana among others will grace the event.