NSSF to raise sh240m for KCCA schools
Mar 22, 2016
Hash Sevens Hills Run is aimed at raising sh240m that will be channeled to selected Kampala schools towards improving their sanitation and renovation of structures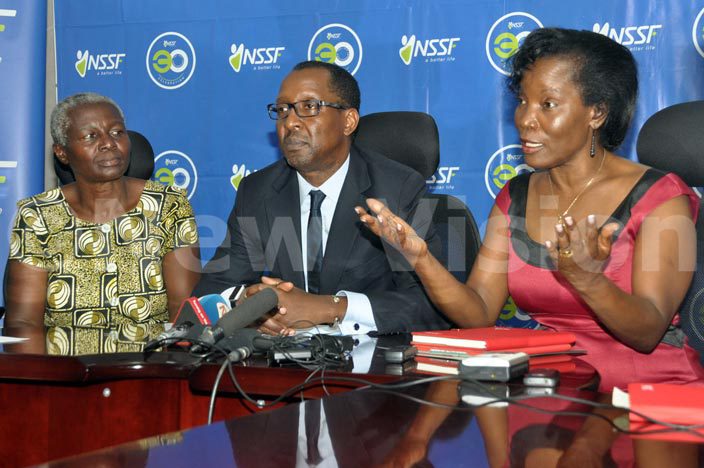 Over 70,000 school going children in Kampala Capital City Authority schools are set to benefit from proceeds of the NSSF Kampala Hash Sevens Hills Run due April 3 in Kampala.

Organised in partnership with Kampala Hash House Harriers; a group of professionals who are "a drinking club with a running problem'', the run is aimed at raising sh240m that will be channeled to selected Kampala schools towards improving their sanitation and renovation of structures.

"This initiative is part of our strategy to build synergies for the benefit of our members who subscribe with NSSF and also the community in which we do our business, so it is a CSR opportunity for us," NSSF Managing Director Richard Byarugaba.

"By raising this money we will be able to help so many children. We are using this as a vehicle which will progressively raise funds and contribute to the improvement of learning in these schools; Children need a safe, health and conducive environment to enable them excel in their academics," Byarugaba stated.

He said they would support the initiative for the next three years in partnership with several partners who include KCB, National Water, Centenary Bank, Standard Chartered, Rwenzori Water, Capital Markets Authority, Interswitch, among others.
KCCA executive director Jennifer Musisi said several schools around the city have been run down over the years were and are in dire need of items like water facilities, drinking water, toilets, furniture, computers, roofing among others.

"Knowing the funding challenges we came up with a program to try and get support from the private sector, well-wishers and individuals and organisations. We have gone a long way but there is a still a big need.

"The only relief to their life now is a decent school and a decent good environment so we are grateful to NSSF who have also joined us to improve especially sanitation and water," Musisi said.

Harsh Master Miria Rugomwa advised all to participate and relive themselves of stress.

The fun run that coincides with the 17th edition of the Kampala Hash Run covers a challenging route covering the seven original hills of Kampala starting from Nsambya, Kibuli, Nakasero, Nsambya, Lubiri, Old Kampala Namirembe, Lubaga.

Each participant will receive a ribbon upon completing each of the hills.

There are four categories of sponsorships for the corporate runners including ordinary which goes for sh1m for 10 runners, bronze (sh2m for 20 people), silver (sh5m for 50 people) and gold (sh10m for 100 runners).