Symbion sets the trend for building designs in East Africa
Jan 31, 2012
The Symbion Group and its core team of architects, technicians and designers, together with specialist consultants, are offering a comprehensive range of design services
By Titus Kakembo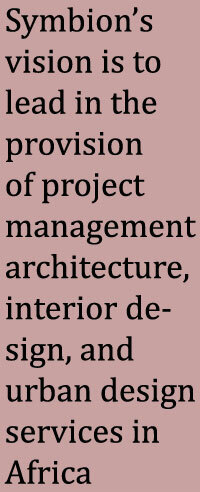 The Symbion Group and its core team of architects, technicians and designers, together with specialist consultants, are offering a comprehensive range of design services ranging from initial feasibility studies through to completed contracts.

The meticulous jobs handled comprise all types of architectural projects ranging from; small one-off extensions to large commercial, medical, leisure or residential developments sprawlin the country at large.

Symbion International was established as an architectural practice in 1980 based in Nairobi before it spread its wings to several countries.

By 1993 Symbion Uganda was started as an associate practice with Symbion Tanzania coming into being in 1994. By 2009, Symbion International changed its trading status from partnership to Symbion Kenya Limited. In 2009 the Symbion Group of practices standardized trading status to limited liability companies throughout.

The Symbion vision is to lead in the provision of Project Management Architecture, Interior Design, and Urban design services in Africa as a whole.

Its missions are numerous. For a start, it is to be innovative through out the real estate sector. Secondly is to identify, assess and be actively involved in projects which best utilize the maximum range of skills and abilities to provide the highest quality of product, client satisfaction, environmental responsibility and satisfactory financial returns.

The other point of interest for Symbion management is; to meet the client's requirements and the social, economic and cultural environment in which those requirements were generated.

In addition Symbion is to develop a liaison between clients and consultants in which individual opinions and skill of both can contribute towards the success of the project. The other is to ensure that the Design Team fully understands the client's requirements and to co-ordinate its work as an integrated group

The company also takes the trouble to ensure by efficient management and co-ordination, that the financial resources of the client are used in the most efficient way and that financial and time objectives are maintained throughout the project.

The other tireless endevour is to strive for excellence and achieve perfection in design work, meet professional and desirable ethical standards.

And finally Symbion's goal is to produce appropriate and refined architecture and design which complementing the cultural and social traditions of the country in which it is located.