Lydia Schubert Nakayenze strategically placed herself at the main entrance of the Uganda Pavilion at the Dubai Expo 2020, where she displayed her products to the expo goers, mainly from the Arab World.
She attracted all people who entered the Pavilion, men and women who wanted to know more about her products.
She displayed highly natural cosmetic oils extracted from organically grown trees in Northern Uganda.
One of the five innovators that were selected by the Ministry of ICT and National Guidance to represent Uganda at the Innovation Week, Nakayenze had on display Shea Butter Oil products, Moringa Oil and Desert Oil cosmetics that became a high demand to many residents of UAE, who liked the oils for nurturing their skins especially because they live under harsh extremely hot conditions.
She trades under the name Moo me Gen, a Langi dialect meaning 'Oils of Hope', and is the founder of the OncaPlanta Uganda Limited, which was founded in 2019 and started operations in March 2020 in Otuke district, Northern Uganda.
As an Innovator, Nakayenze is looking forward for her company to become the leading developer of natural cosmetic oil products in East Africa and beyond and targets exporting to all countries around the globe.
She is proud to say that after years of working in Germany, she returned home to make use of the knowledge and experience she had acquired and the intensive research she conducted in the field.
She is also proud that she chose to operate and set up her business in Otuke and serve over 20 surrounding districts with a focus on making a difference in the lives of people who are slowly recovering from the effects of the Lord's Resistance Army (LRA) conflict that divested many homes in the area.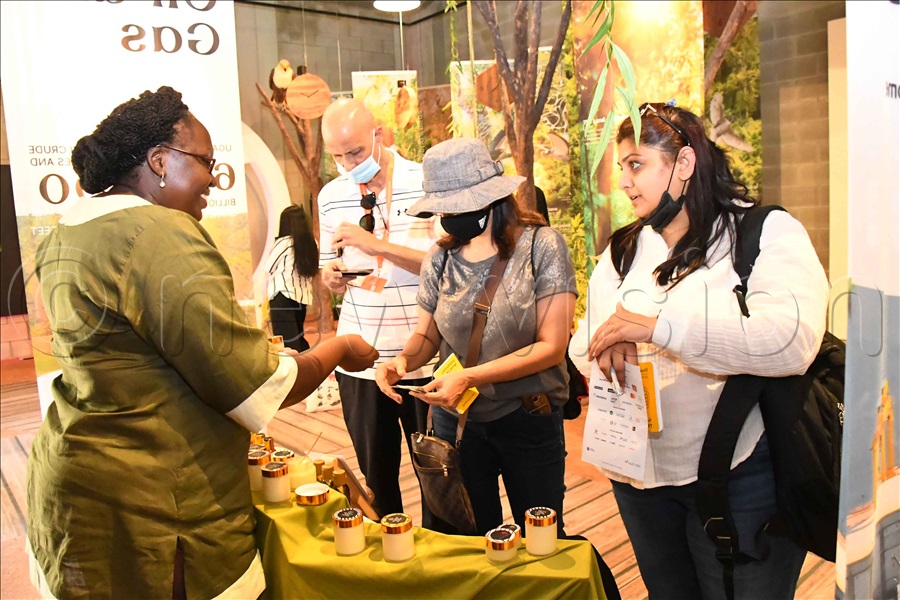 "I am the founder and managing director of Moo me Gen and I began operations in March 2020, producing Shea Butter and by the end of the year, we were producing Moringa Seed Oil. This year we started producing Desert Oil and Marula Oil," she explained.
She would often be interrupted by curious people and because of too much talking, she kept a bottle of mineral water by her side to oil her lips and throat.
To convince the Expo goers, she would quickly apply the oil on anyone's skin. Her oils are natural and not mixed with anything else.
"The oils are for cosmetic use, and you can use them purely as they are for the whole family," she said, adding that Shea butter is popular with mothers and newborn babies.
It cares for the skin especially babies with fragile skins but also for the body of the pregnant mother to prevent stretchmarks.
"It also helps the skin to snap back faster after a mother having a baby, and it keeps the skin elasticity intact," she said.
She explained all these to whoever dared to approach her and made several impressions.
Many bought the products and those who could not asked for her contact after she promised to deliver on request.
"Moringa seed oil is also good for skin care, particularly for the face and helps to treat acne because it does not clog the skin pores. Desert oil is good for the skin and hair, it is also a brightening oil and has anti-fungal properties," she said.
The most important part of her innovation is that her company can use the bi-products to make other products, creating a value chain.
For instance, she explained, she can use Shea Seed cakes to make animal feeds, especially pigs and broiler chicken. The bi-products are a good source of protein.
She said that the Desert Seed cake is also an important raw material for the pharmaceutical industry because it is used in the manufacture of hormones.
Whereas Moringa Seed cake can be used to filter water and make it clean without needing to boil it.
"A cake can be placed in dirty water and after some time, you can drink it without boiling. We started by using it as water filters for a school in Mukono district," she said.
Currently, Nakayenze said, she can produce two tons of oils per week, but the factory has an installed capacity to do one ton daily. Her setback is the lack of connection to the national power grid.
"We are currently working off-grid and using a generator, which limits us and, therefore, we do two tons a week," she explained.
She said it was just a few weeks after she began operations when the country went into Covid-19 lockdown that lasted almost two years.
She had hoped to use trade shows and other places locally and abroad to showcase to the international customers since she wanted to produce in bulks. But her plans were put to a halt.
"Now after the economy opened up, we are looking for clients who can uptake in bulk to enable us to produce two tons weekly," she said.
She currently has a few clients in Germany, USA, and United Kingdom, which she said were largely Ugandans in the diaspora.
She also sends her products to Kenya and Tanzania.
"We now want to explore the Middle East market and interact more with customers here," she explained.
She believes that she was picked by the ministry as one of the innovators because she met the requirements, and the ministry saw in her the potential to inspire others.
"Towards the end of January, the Ministry of ICT was looking for innovators and we submitted applications, they were looking for certain qualifications including having a registered company with audited books of accounts, business plan to share, innovations and other issues," she said.
"I was called for vetting in February and out of 20 companies we were one of the five that were selected," she said, adding that the Dubai Expo was another opportunity she was looking for to increase her volumes of trade abroad.
During the time of the pandemic, Nakayenze devoted her energy to making more research and produced several other products. She now has five oils including Sunflower Oil.
"The message I have to the youths is that never give up and work steadily and have a quality product, if the product is good others will tell others and it will continue to market itself," she said.
At the Expo, she had three products including Nilotica Shea Butter, Desert Seed Oil and Moringa Seed Oil in different quantities.
She employs 20 workers but is looking forward to employing 100 in the next five years.
She hopes to increase her production after getting an organic certification and hopes to deal with many Shea Butter out-growers and farmers across the region.
"I will need at least one person per sub-county, currently I am working with a few villages in Otuke, Agago, Pader, Kitgum and Aleptong but the Shea Butter grows in 20 districts altogether," she explained.
She hopes that if she becomes successful with her plans, she will need to get one extension worker for each community where she will be sourcing her raw materials and more people to work at the factory.
A graduate of Development Studies at Makerere University, Nakayenze worked in Germany between 2006 and 2018.
Nakayenze chose to work in Northern Uganda looking towards conserving nature through the creation of high-quality natural products for both the local and the world market.
"I think I have hit my target; the Expo gave me more exposure and I have been able to learn from others," she said.