NEWS | IN PICTURES | #VisionUpdates

A lot happened on Thursday, April 29, 2021. Here is a selection of pictures captured in different parts of the world on the day. (All photos by AFP)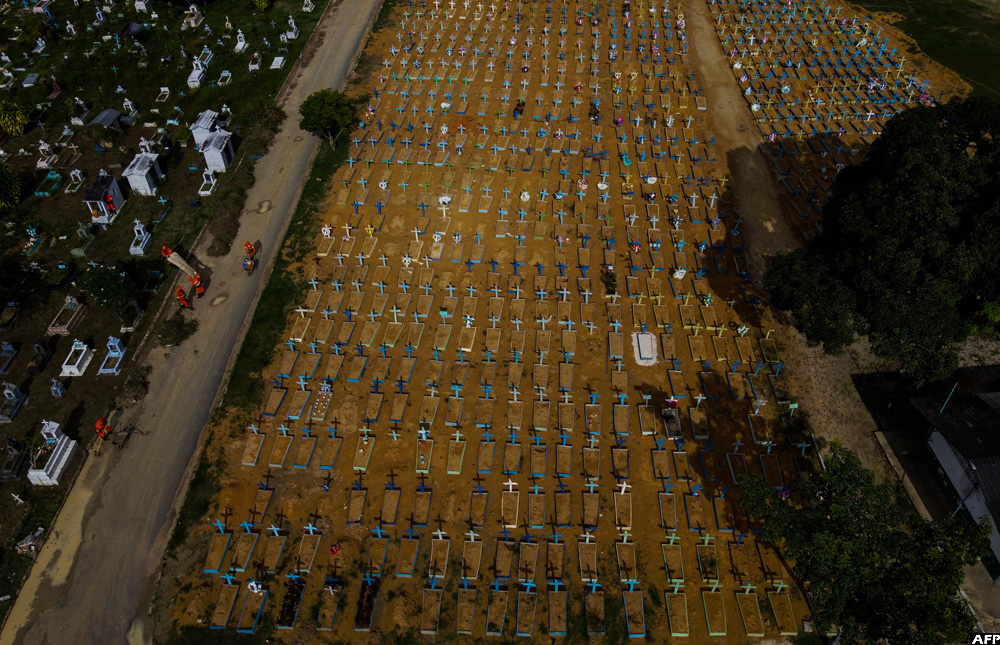 In Brazil, this aerial view showed COVID-19 victims' graves at the Nossa Senhora Aparecida cemetery in Manaus, Amazonas.
With a population of 212,000,000 people, Brazil surpassed Thursday the 400,000 deaths due to COVID-19, and is second in number only to the US.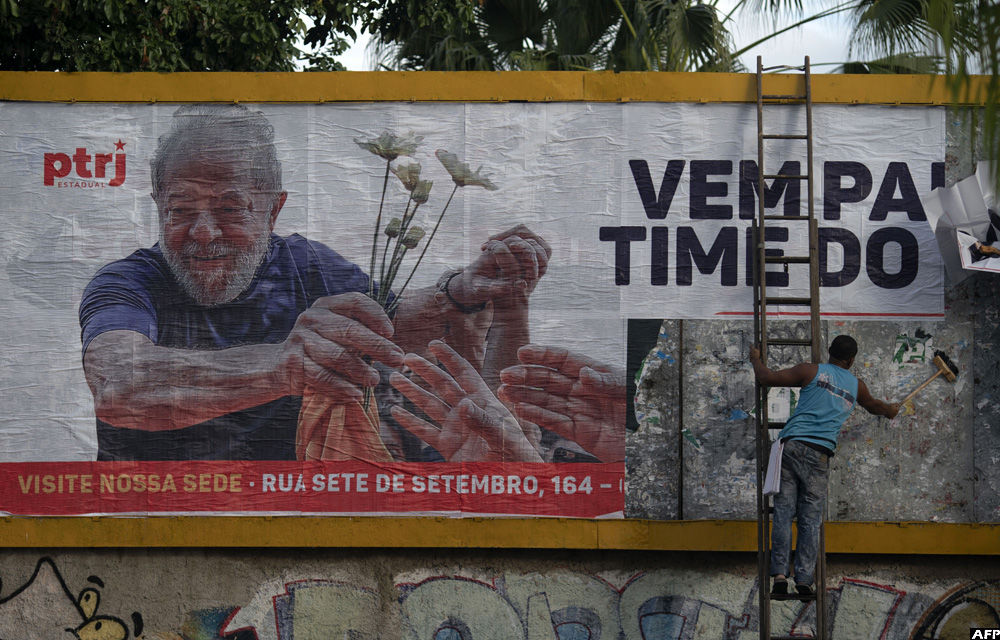 Elsewhere in Brazil. this man fixed a billboard in support of former Brazilian president (2003-2011) Luiz Inacio Lula da Silva in downtown Rio de Janeiro.
In the US, President Joe Biden picked a dandelion flower for First Lady Jill Biden as they departed on Marine One from the Ellipse in Washington, DC. Biden traveled to Georgia to mark his first 100 days in office.
In Paraguay, children attended a class at an open-air space in Asuncion amid the COVID-19 pandemic.
Since public schools are closed due to the pandemic in the South American nation, some teachers have been offering free face to face classes for over 50 underprivileged children, for whom it is difficult to get online education.
In Colombia, these people took part in the second day of protests against a tax reform bill launched by President Ivan Duque, in Bogota. Workers' unions, teachers, civil organizations, indigenous people and other sectors reject the project that is underway in the Congress, considering that it punishes the middle class and is inappropriate in the midst of the crisis unleashed by the COVID-19 pandemic.
In Chad, mourners attended the funeral of Adoussema Balam in the district of Wallia in N'djamena.
Adoussema Balam was killed during a demonstration on April 27 in N'djamena.
In Russia, this serviceman observed his military vehicle before rolling along Tverskaya street during a rehearsal for the WWII Victory Parade in Moscow. The Victory Day parade at the Red Square on May 9, 2021, marks the 76th anniversary since the capitulation of Nazi Germany in WWII.
Elsewhere, in Jerusalem's Old City, Israeli security forces threw tear gas at Palestinian protesters.
At a coffee shop in the city of Hebron in the occupied West Bank, this man used his phone to film a televised speech by Palestinian president Mahmud Abbas regarding the upcoming Palestinian elections.
In Venezuela, 34-year-old Jesus Garcia prepared to perform as Doctor Jose Gregorio Hernandez while participating in an awareness campaign about the use of face masks and hygiene measures to prevent contagion with coronavirus, supported by the Ministry of Popular Power for Culture at Tiuna el Fuerte cultural park in Caracas.
Meanwhile, ultra-Orthodox Jewish rabbis lit a bonfire in an ultra-Orthodox neighbourhood in Jerusalem to celebrate the Jewish holiday of Lag BaOmer, marking the anniversary of the death of Talmudic sage Rabbi Shimon Bar Yochai approximately 1,900 years ago.
Iraqis gathered for an iftar meal, offered by a local activists, in the central shrine city of Najaf, some 160 kilometres south of Iraq's capital.
In the US, Casey the Bulldog went for a walk in the Hell's Kitchen area of New York. New York Mayor Bill de Blasio said that the city hopes to "fully reopen" on July 1.
This woman held a placard which read "Toilet paper? rather constitution" as thousands of demonstrators took part in a protest march against the pro-Russian orientation of the Czech President Milos Zeman and other politicians on the Venceslas Square in Prague.
Elsewhere, these migrants arrived at the naval base in the Libyan capital of Tripoli after the coastguard intercepted an inflatable boat carrying 99 Europe-bound migrants off its west coast.
In the UK Parliament, Black Rod, Sarah Clarke (C) led Speaker of the House Lindsay Hoyle to the House of Lords during a ceremony to prorogue Parliament in London.
And to wrap up this pictorial, Hindu worshippers were seen praying at the Dubai Hindu Temple. Indians from the millions-strong expat community in the UAE, stranded in their homeland during a catastrophic coronavirus surge, are swamping private jet operators with requests to whisk them back to safety. Fearing a prolonged flight ban between India and the Gulf state, they aim to use an exemption for private business planes that was in effect last year during the first wave of the global crisis. An estimated 3.5 million Indians live and work in the United Arab Emirates.