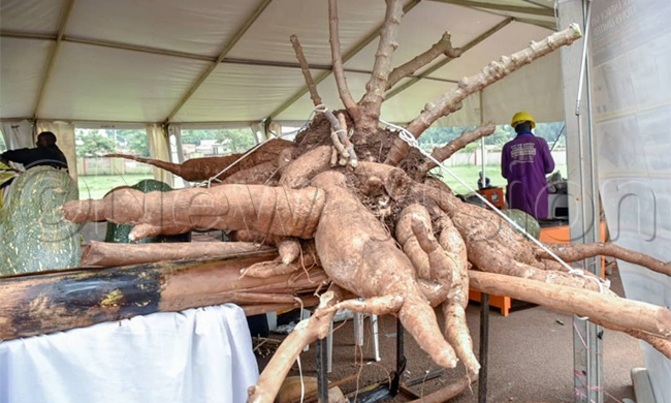 The three day event will start Friday and end Sunday. The Harvest Money Expo is organised by Vision Group.
Are you interested in Cassava farming? We have some of the best experts lined up for you during the #HarvestMoneyExpo starting February 14-16. (Photos by Miriam Namutebi)
A number of exhibitors have set up stalls at the Mandela National Stadium in Namboole, ahead of the Harvest Money expo that starts tomorrow.
ENGSOL, which deals in tractors, took the lead when it started bringing in its merchandise on Monday. By Wednesday, more companies had finished setting up their stalls.
These included Fertplus Organic Limited, Champrisa International Ltd, SR Afro Chicks and Breeders Ltd, Zoeve Ltd, Africasia Seed Company Ltd, Books Distribution Uganda Ltd, Ugachick Poultry Breeders Ltd, Dura Motors Ltd and Coca-Cola.
Julius Turyamwijuka, the Fertplus Organic Ltd managing director, said they decided to bring in their merchandise early so as to serve the showgoers immediately when the expo opens. Fertplus deals in fertilisers.
"We set up our stall early so that as soon as the expo kicks off, we dedicate all our attention and time to the customers who will visit our stall," he said.
Since the expo aims at promoting farming as a business, Fertplus will also sell its fertilisers at a 10% discount to whoever will buy from them in Namboole.
Vision Group's chief executive officer Robert Kabushenga said the venue will have signage to ease navigation.
"In addition to our staff that will guide people around, we will put signs to help people know where they are going," he said.
The Police, led by the Regional Police Commander Kampala East, SSP Michael Mutoni, alongside his deputy SP Bashir Ssempala, yesterday inspected the venue at Namboole and promised security to the exhibitors and visitors.
Frank Kabushenga, Vision Group's operations officer, said everything was set for the expo.
"We have taken measures to handle any emergencies, including health issues. We have arrangements with our health service providers, who will station nurses at entrances to attend to emergencies," he said.
In addition to touring the stalls, there are a series of trainings. There will be eight training sessions each day, starting at 9:00am.
To tour the stalls, showgoers will pay sh10,000 and for those who wish to attend the trainings, another sh10,000 will be charged for each day.
The expo is organised by Vision Group and supported by dfcu Bank, the Embassy of the Kingdom of the Netherlands in Uganda, ENGSOL aBi-development Ltd, Akvo irrigation, agriculture ministry, National Agricultural Research Organisation (NARO) Musubi Farm, Champrisa International and SR Afro-Chicks and Breeders.