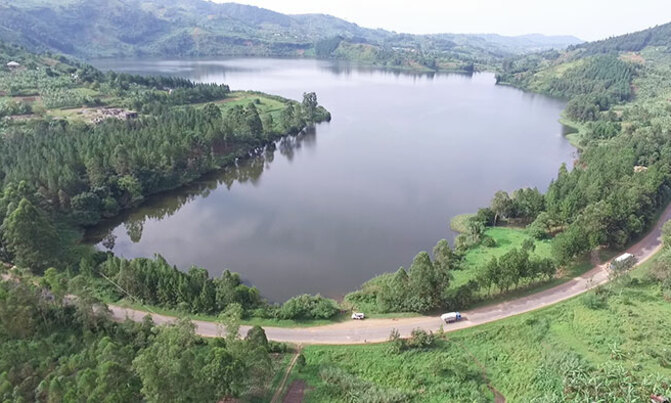 Looking for Christmas and new year's gate away destinations? Look here.
It is that time of the year when many of us start scratching our heads where Christmas will be best spent.
With the limited budget, fear and an automatic boring holiday season is what some people have already registered.
But why worry, Ruth Nasejje has picked out some of the interesting places you can afford to spend the festive holiday at.
Prepare to travel and enjoy yourself in these places across the country.
NATIONAL PARKS
Uganda has 10 National Parks. These are great destinations for the holiday season.
We start off with Lake Mburo National Park
About 20% of Lake Mburo National park's surface is covered with water giving you an opportunity to engage in boat rides, swimming, boat rides, and fishing.
The spacious grounds at this Park make it a unique game reserve for people to hike, engage in Mountain Biking and also Horseback Riding Safaris.
This combination makes the park in western Uganda (Lyantonde District) a perfect place for a short wildlife Safari of two or three days to give you a taste of the African wilderness.
Lake Mburo is the Savanna Park in Western Uganda where mostly Giraffes and Zebras roam, and where other wild animals also gather in groups and roam in certain sections of the park.
Watch video to know what you should indulge in when you get here.
2. Kidepo Valley National Park
Kidepo attracts close to 4,000 visitors every year. Established in 1962 with animals less than what it ever imagined to contain, Kidepo national park has risen to be ranked the third most-visited national park in Africa.
The national park is in the north-eastern region of Uganda, particularly in Kaabong district. A trip to Kidepo is either by road transport or by air. Whichever way you decide to reach here be assured of the greatest experience.
The first reception is here is by the Karimojong and the Ik tribe. These introduce to you one of Uganda's diverse cultures.
From the dances to the food and then the craftworks. All these are the true representation of the people in the North.
Here is a video to visually show you what Kidepo offers.
Are you good at trying out new experiences? The Ik have a unique way of ushering you into a different new experience. From the dress code to the food and of course the dances. Know them by clicking in the video below.
3. Bwindi Impenetrable National Park -
Bwindi has got about 350 species of birds and is therefore great for bird watching in addition to gorilla trekking.
Gorilla trekking is one of the most popular Uganda tourist activities and so many tourists visit Uganda every year specifically to take part in tracking mountain gorillas. There are great accommodation facilities near the park which cater for tourists from around the world.
Here is a video for you to take a look at.
4. Queen Elizabeth National Park
A rich history covers Queen Elizabeth National Park. In the South-Western region of Uganda is where the country's biggest National park lies. It covers four districts which are Kasese, Kamwenge, Rubirizi, and Rukungiri.
In 1952, Queen Elizabeth was established as Kazinga National park but two years later, it was renamed to commemorate the visit by Queen Elizabeth 11, the queen of England.
Since then, Queen Elizabeth national park has become the most visited park in Uganda. It comprises the most popular savannah reserve and the widest variety of wildlife.
The full package of a holiday adventure lies in this park. Watch this.
Notable for its climbing lions, Queen Elizabeth is a place that will usher you into shaking off your fears. Check them out here;
Kibale Forest National Park is referred to as the primate's capital of the world. This means, when you travel to western Uganda, be sure to come across the density and diversity of primates such as the chimpanzees.
If you have not been on any chimpanzee tracks, this park is one of the best safari destinations in Africa for chimpanzee tracking. Click in the video below.
6. Don't just go for a trip, have an adventure at Semliki National Park
All adventures are always exhilarating and more breathtaking when you actively participate in them with your mind, body, and soul.
So why not set a weekend to Bundibugyo and meet the Semliki National park.
Very notable here are the hottest hot springs known as Sempaya hot springs.
These boil up to 100 plus degrees Celcius.
Different from the rest of the hot springs in Uganda, Sempaya has a female and a male hot spring.
Are you the kind of tourist who wants to cook their own food while on a safari, you don't need to move with a stove with Sempaya hot springs. Many tourists who have made it here can testify to eating boiled eggs and matooke from these hot springs.
Watch the video.
Spending a night in the wilderness is a challenge for many people. In Entebbe Municipality, there is a home to all the wild animals and fun-packed activities a person in this state should look forward to.
The Uganda Wildlife Education Centre has 54 species of wild animals. They are being maintained by top-notch experts, but above all, highly committed professionals and volunteers. Do you want to take pictures with giraffes, monkeys, snakes or lions? This is a place for you. Many people have grown up calling the place Entebbe zoo.
JINJA DISTRICT'S HOLIDAY OFFERING
Away from national parks, there is a district that has revived its tourism. This is Jinja district in the Eastern part of Uganda.
Many people have grown fond of this district. To start with is the Nile bridge. Commissioned in 2018 by his Excellency the President of Uganda Kaguta Museveni, the Nile bridge added a golden touch to the entrance in Jinja. Most couples and by-passers take pictures at the bridge. Would you do this? I highly recommend.
What is Jinja district without the Nile River? The world's longest river has its source in Jinja. If you are a good swimmer, passionate about sailing or boat riding, make it a point to go visit the Source of the Nile this holiday season.
At the River Nile, rafting tops the activities for brave souls who love water. If you want to give this a try, check how this group did it not while ago. I call it the joy of rafting on the Nile.
A few kilometers from Jinja district comes Buyende district which harbors one of Uganda's hills, the Kagulu hill.
I climbed my way half this rock.
Holiday destinations in the country can be located on the go but if you are a non-resident, here is a link to get you around Uganda in a click; https://www.newvision.co.ug/pearl-of-africa.
I hope you can enjoy the holiday season as much as I will. Having traveled most parts of the country, I will try the neighboring countries this year. Follow my fun on my social media platforms; @ruthdavoice is what I use on twitter, facebook, and Instagram.
MERRY CHRISTMAS AND A HAPPY NEW YEAR