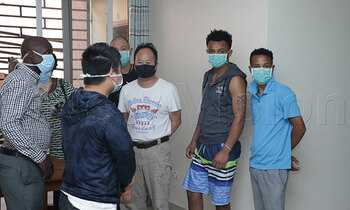 CORONAVIRUS CHINESE SMUGGLERS
About 40 Chinese nationals were smuggled into Uganda on Thursday night by a lady only known as "Mama", a Chinese national to avoid the quarantine centres. Reports indicate that she has been arrested and under police custody.
The Ministry of Health found these Chinese at Trupart Apartments in Naguru, Kampala. They were tested for COVID19 but the results have not yet been released. Mama, the smuggler is seen wearing a maroon top around the Apartments.