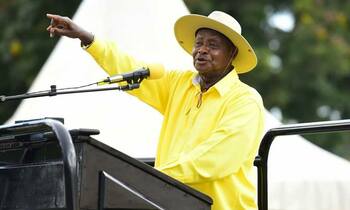 SOROTI-MOROTO ROAD
SOROTI - The Soroti-Moroto 150.3-kilometer road commissioned by President Yoweri Museveni on Saturday (November 21, 2020); cost sh646b, according to the state minister for works Peter Lokeris.

This road becomes part of the total 3,000 kilometers of major roads across roads constructed and rehabilitated in recent times, according to the ministry of works.

Lokeris who was representing the minister of Works and Transport, Gen. Edward Katumba Wamala said, "The Soroti - Moroto road from gravel to bitumen standard is fully funded by the Government of Uganda."

The state minister added, "We wish to thank you and the National Resistance Movement (NRM) Government for the strategies laid out to achieve Social-Economic Transformation of this Region and the country at large by integrating this region to the rest of the country through infrastructure development."

He added, "Under this Sector, more roads are to be upgraded and /or rehabilitated in the next few years in line with the NRM Manifesto."

He noted that in Teso sub-region, more roads are programmed for upgrading to bitumen standard.

These include the Soroti-Amuria-Achan Pii, Kumi- Ngora-Serere-Kagwara, (95Km), Katine-Ochero, Dokolo-Amolata-Namasale, Ferries (Bukungu, Kaberamaido-Kagwara), Amuria-AkwanaMoru

Apart from Teso sub-region, other roads to be worked on are those in Karamoja sub-region and include the upgrading to bitumen standard: Moroto-Lokitanyala (whose works are due to Commence), Moroto-Kotido, Kotido-Kaabong, Kitgum -Kidepo, Lira-Abim, Karenga-Kapedo-Kaabong

Lokeris, during the commissioning, told the President that the Soroti -Moroto road project is part of the National Roads Network implemented in two sections with the first section of 100 kilometers traversing the Districts of Soroti, Amuria, and Katakwi up to Akisim in Napak District, while the second Section of 50.3km traverses through Akisim in Napak to Moroto.

He also explained that the construction works for the 100km in Section 1 from Soroti to Akisim were undertaken by M/s China Communication Construction Company Ltd (CCCC) as the Contractor under the Supervision of

GIBB Africa Ltd in Association with MBW Consulting Ltd, More so, the Construction of the 50.3km from Akisim to Moroto in Section 2 were undertaken by M/s China Railway No.3, Engineering Group as the Contractor under the supervision services of M/s COWI A/S in Association with COWI Uganda.

The Third Section, Lokersi explained, from Moroto to Lokitanyala (44km) whose groundbreaking Ceremony was completed today by Museveni, is another milestone for the NRM Government in achieving its strategic objective of ensuring the Connectivity of this Sub-Region with the rest of East Africa.