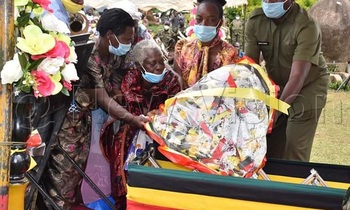 UPDF|DEATH|COVID-19
The Uganda People's Defence Forces (UPDF) has lost one of its senior officers, Brig. Emmy Mulindwa, to COVID-19.

Mulindwa, who has been the UPDF acting Deputy Chief of Personnel and Administration, passed on at Mulago hospital on November 18 (Wednesday), and he was Saturday laid to rest at his ancestral home in Masulita, Wakiso district.

In a statement, the UPDF deputy spokesperson, Lt. Col. Deo Akiiki, said Brig. Mulindwa died at Mulago hospital where he had been admitted after contracting the deadly COVID-19.

Quoting 1st Thessalonians 4:14, Akiiki said: "For we believe that Jesus died and rose again and so we believe that God will bring with Jesus those who have fallen asleep in Him."

While addressing the mourners at the scientific burial attended by selected UPDF officers, close family members, and friends, Maj. Gen. Sam Kiwanuka who represented the Chief of Defence Forces praised the late Brig. Mulindwa for his dedicated and committed service during his time in the UPDF.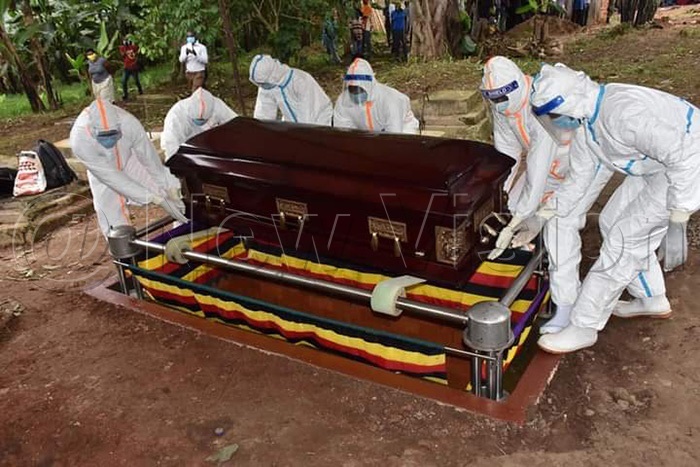 Gen, Kiwanuka also described the late Gen. Mulindwa as an instrumental officer in the restoration of peace in the country.

Gen. Kiwanuka described the late, who he met at Monduli in Tanzania where he was doing his Cadet course, as a very supportive officer during the time they served together in South Sudan and Somalia.

Speaking on behalf of the widows, Mrs. Nakibuka Robinah Mulindwa said the late was a loving and respectful husband and friend.

She thanked the UPDF fraternity for the support they have rendered towards the family during Gen. Mulindwa's life and in death.

Speaking on behalf of the children, Capt. Julius Yiga, a son to the fallen Brig. Mulindwa, thanked the UPDF medical staff for all their efforts towards saving the life of their late father during the time he was admitted to hospital.

Yiga said their late father was a person who loved people, welcomed everyone in his home, and never discriminated against anyone regardless of their age and background.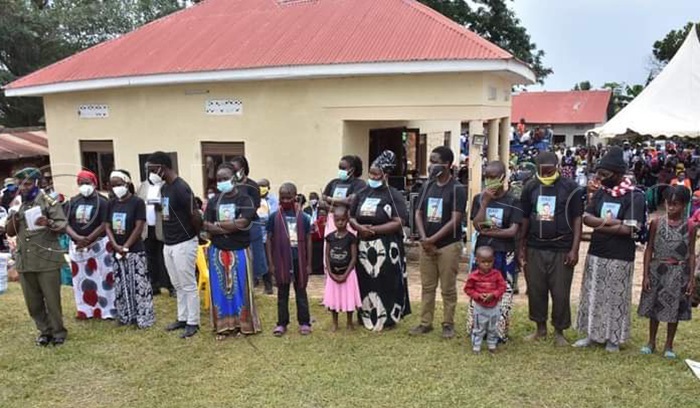 Brig. Mulindwa joined the army in 1983 during the NRA bush struggle and during his career, he served the UPDF in various capacities.

The late served as; an instructor, administrative officer, operations officer during Operation Iron Fist, Battle Group Commander Group XII (AMISOM) and Acting Deputy Chief of Personnel and Administration, a position he held until the time of his demise.

At his send off, the late Mulindwa was accorded full military honours befitting an officer at the rank of a Brigadier General with an 11-gun salute.

The send-off was attended by several Generals of the UPDF and Civil leaders of Ministry of Defence and Veteran Affairs, and local leaders of Luwero district.

In attendance was the UPDF Chief of Personnel and Administration who was Mulindwa's immediate boss, Maj. Gen. George Igumba; Commander UPDF 1st Division, Maj. Gen. Sam Kawagga; and the commandant General Headquarters (Bombo), Maj. Gen. Joram Kakari.

Also, the Chief of Mubende Rehabilitation Centre, Maj. Gen. Ddiba Ssentongo, Commissioner Human Resources, Ministry of Defence and Veteran Affairs, Cox Anguzu, and other senior UPDF officers attended.