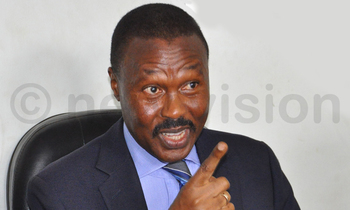 Alliance for National Transformantion (ANT) presidential candidate Lt. Gen. Mugisha Muntu will today campaign in Sembabule district. Mugisha, who campaigned in Kabale sub-county in Rakai, and Kakuto constituency in Kyotera yesterday, has also said he will release his campaign song tomorrow.

On his social media handles, Muntu stated: "I am deliberately provoking Ugandans to think about two things: What we are fighting against and what we need to achieve (what we are fighting for)."

He listed the problems pinching citizens as lack of justice, poverty, unemployment, poor healt care system, among others.

"In choosing leaders at whatever level, citizens tend to focus on what they are fighting against and lose focus on what they are fighting for. I am choosing a difficult, unappealing path of focusing Ugandans on this fundamental issue - what do we want to achieve as a people?"

He said to achieve anything, the current regime would have to go first. "Citizens must understand that no candidate can ever be powerful without their support. So, in exercise of this power, citizens should look for qualities necessary to deliver on what we desire," he said.

In his speech yesterday in Kyotera, Muntu, implored the Electoral commission to be fair and professional while handling the elections, saying change eventually happens.