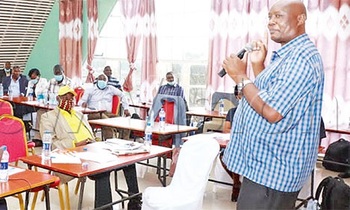 WATER|PROJECT|KENYA|UGANDA
BUSIA - Kenya and Uganda have endorsed the multi-billion Angololo transboundary water resources development project that will be shared between the residents of the two countries.

Busia governor Sospeter Ojaamong represented Kenya in the inception report review and validation workshop at the Drimz Hotel, while Uganda was represented by Tororo South County MP Fredrick Angura.

"Both countries are in agreement that the project must proceed. It is part of President Uhuru Kenyatta's flagship projects," he said.

Addressing participants on Monday (October 12, 2020) the governor said over 3,300ha is required for the project in both Kenya and Uganda, thus the need for leaders from both countries to sensitise affected residents to accept compensation for the project to proceed.

Angura urged the consultant, Belta Studio, to fast-track the project in order to enable residents of Angololo, Mella sub-county, Tororo district in Uganda, and Osajai, Moding as well as Kamuriai in Kenya to reap from the project that includes irrigation, electricity and water.

Daniel Folta, the consultant, said the proposed dam will be 22 metres high and will have a storage capacity of 13 million cubic metres with an irrigation area of 2,505ha and the potential to generate 103KW of hydropower.