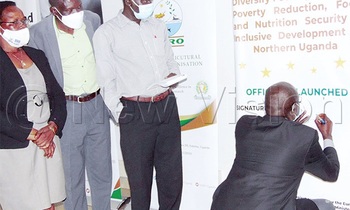 POVERTY|MALNUTRITION|HUNGER
GULU - The National Agricultural Research Organisation (NARO) has launched a sh25b project to help fight poverty, hunger, and malnutrition in northern Uganda.

The Chase Hunger and Poverty project will be implemented under the Development Initiative for Northern Uganda (DINU) programme under the Office of the Prime Minister.

The project is funded by the EU, the Government of Uganda, and other partners.

Dr Yona Baguma, the NARO deputy director-general in charge of research coordination, said northern Uganda is still recovering from nearly two decades of insurgency, during which livelihoods were destroyed.

"The region was incapacitated to produce the diversity of foods required for adequate nutrition and social cohesion was compromised. This led to gender-based violence, increased frequencies of unwanted pregnancies and sexually transmitted diseases, notably HIV," Baguma said.

Pius Okello Ongom, the DINU national programme co-ordinator, said the requisite innovations for the success of the project interventions will include establishing micro-irrigation to offset effects of climate change such as drought; promotion of good agronomic and husbandry practices for intensification and integration of crop and livestock commodities.

He said the project will also promote family planning options, a campaign against teenage pregnancies, and nutrition education to make poor families more productive and resilient.

Local leaders say

John Paul Onyee, who represented the chief administrative officer (CAO) of Nwoya district, said farmers' production is low coupled with poor market linkages.

He said farmers who get agro-inputs from NARO and Operation Wealth Creation (OWC) have complained about late arrivals and some come with new pests that are hard to control.

James Bedijo Okumu, the CAO of Pader district, asked NARO to carry out agricultural zoning by first studying the soils in each district to help farmers plant what is suitable.

The project

Dr Yona Baguma, the NARO deputy director-general in charge of research co-ordination, said in this intervention, farmers will be encouraged to grow a variety of crops and rear animals both for consumption and marketing.

The proposed crops include maize, soya bean, cassava, beans, sweet potatoes, vegetables, and sunflower.

For livestock, the project will look at local poultry, dairy, rabbit rearing, beekeeping, and fish production.

It will be implemented in selected sub-counties in eight districts of Lira, Oyam, Kole, Alebtong from Lango sub-region and Pader, Nwoya, Gulu, and Kitgum from the Acholi sub-region.