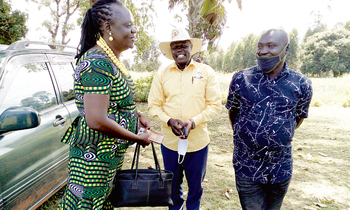 ELECTION WATCH
The Electoral Commission (EC) returning officer for Arua district, Medard Nteziyaremye, has advised candidates to avoid processions during campaigns.

Nteziyaremye said the candidates will have to use the media, organise restricted meetings with guidance from the Police and avoid processions and crowds to avoid further spread of COVID-19.

Nteziyaremye was speaking shortly after nominating Lillian Paparu Obiale as the candidate for Arua Woman MP seat on National Resistance Movement (NRM) ticket.

Nominations for MPs in Arua city started at about 9:00am and Simon Avutia was the first candidate to be nominated as an independent vying for the Ayivu East Constituency.

He was nominated at about 9:30am. Bernard Atiku was nominated as an independent candidate for Ayivu West Constituency in Ayivu division, Arua city.

Atiku has promised to help the people of Ayivu protect their land. He also promised to develop Arua to a cosmopolitan and regional city for West Nile and neighbouring countries of South Sudan and eastern DR Congo.

Avutia said the constituency has been neglected, so he has come to address the plight of the people.
Meanwhile, in Vurra County, Arua district, the nomination exercise started at about 9:30am and the first candidate to be nominated was Paparu.

Paparu, who arrived for the exercise at about 9:30am and got nominated at 10:30am, said she has already handed over her campaign programme to the EC for harmonisation.

She said she will embark on her campaigns once the programme is approved.

Paparu pledges to help the people of Arua district improve their household income. With her slogan Together we are Stronger, Paparu said development and improving livelihood can be done jointly.

"Vurra is the food basket of Arua city and West Nile, all we need to do is to link farmers to a better market for their produce," she said.

Paparu also said she will address the challenge of inadequate clean water in the four sub-counties of Ajia, Arivu, Logiri and Vurra.

"As a woman, I will ensure girl-child education is uplifted alongside the boys," Paparu said.

Peter Pariyo, the aspirant for Vurra Constituency, said his first priority will be to promote unity and accountability.

He pledged to uplift education standards in Vurra through stakeholder involvement.

Pariyo said for one to be empowered, the people of Vurra need to have leaders who can guide them on economic development strategies.

Yovan Adriko was nominated as the NRM flag-bearer for Vurra Constituency.

By press time, other aspirants who were yet to be nominated for Vurra Constituency MP seat included former state minister for transport Simon Ejua.

The nominations went on peacefully in Arua district. The activities were held at Vurra sub-county headquarters, with adherence to the standard operating procedures.