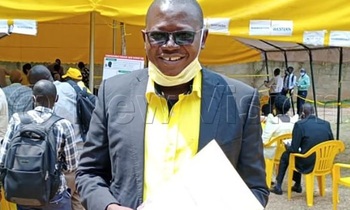 POLITICS|NOMINATION|ELECTIONS
ARUA - The NRM aspirant that contested in the primaries for the Arua Central Division MP seat has withdrawn from the race.

Robert Ejiku withdrew after he declined to turn up for nomination on Friday, paving way for the NRM Candidate Jackson Atima Lee Buti.

Ejiku withdrew from the race, purportedly citing irregularities that may fail and not guarantee him a swift process of a fair election.

However, he said he will give the NRM party a chance to flourish despite their failed attempts to give him the justice he deserved when petitioned them after the recently concluded primaries where he alleged that his counterpart, Buti, had rigid.

"I will not be seeking election to the position for Arua central division MP seat as an independent," Ejiku said.

He called upon his supporters to actively engage in the electoral process and make their independent decisions and asked taskforce to campaign for President Yoweri Museveni despite the political party's hurdles.

The nominated NRM candidate for the Arua central division but called upon the latter to whom he won in the party primaries to join him and fulfill their party interests.