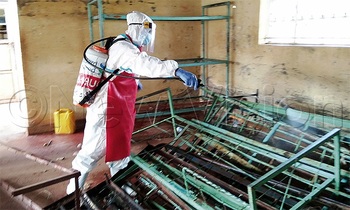 HEALTH VIRUS
Dabani Girls Secondary School, which hosted a quarantine centre in Busia district, is struggling to win the confidence of parents before it can reopen, the board has said.

The school hosted one of the biggest quarantine centres in the country, which at any given time never had less than 80 people.

Some of the people at the centre tested positive and are probably connected to the 32 community COVID-19 cases so far diagnosed in the district.

The community neighbouring the school resisted the idea of it being a quarantine centre, but the district task force had identified the school as the most ideal.

Laban Wandera, the chairperson of the school board, says the quarantine centre left the school in a much worse situation.

The community is still worried that their children could catch the virus since no fumigation has been done by the district COVID-19 task force.

"We have uncleared electricity bills, broken furniture, windows, doors and beds in addition to the plates and saucepans used in preparing the students' food," Wandera said.

The school, he said, also lost the firewood it had stocked.

"As management, we made an effort to inform the district task force and complied with their request that we quantify the damage which amounts to sh15m," Wandera said, adding the school prefers to have the mess created sorted out than being given cash.

He said they were worried because time was running out, yet nothing was being done to resolve the situation.

The school, Wandera said, runs a small budget and should not be made to look elsewhere for money to fix the broken items or make parents foot the bill for the repair of the damaged property because it was being used as an isolation centre.

Capt. Chris Mike Okiria, the Busia Resident District Commissioner and head of the COVID-19 task force, said he reported this concern to Dr Diana Atwine, the health ministry permanent secretary.

He said the task force also relies on funding from the central government and they are hopeful that the Government will respond in time.

Beatrice Akello, the deputy headteacher, said despite the challenges, the administration is preparing to put a few things right to create a safe learning environment for the learners.