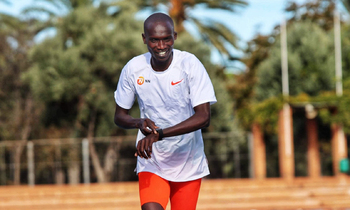 Saturday
Gdniya, Poland
World Half marathon
Cash prizes
Individuals
1st US$30,000 (sh110m)
2nd $15,000 (sh55m)
3rd $10,000 (sh36m)
4th $7000 (sh25m)
5th $5000 (sh18.4m)
6th $3000 (sh11m)
Teams
1st US$15,000 (sh55m)
2nd $12,000 (44.2m)
3rd $9000 (sh33.1)
4th $7500 (sh27.6m)
5th $6000 (sh22.1m)
6th $3000 (sh11m)
Should any Ugandan break the world record at the World Half Marathon Championship, he will pocket an extra $50,000 (sh184m) on Saturday.
This will be on top of the $30,000 (sh110m) individual winners prize for a total of $80,000 (sh 294m) winners' purse.
That's what World Athletics has set aside for anyone who sets a new world mark in this year's World Half Marathon.
Emulating 2004
Uganda last featured on the podium in 2004 when Wilson Busienei, Martin Toroitich and Joseph Iga finished third in 3:13.48.
Prizes will be awarded to the top six individuals and the top six teams in both races.
Scoring
Teams may enter a maximum of seven athletes, but no more than five shall be allowed to start in each race.
Team results are decided by the aggregate of times recorded by the first three finishers of each team. The team with the fastest aggregate time will be judged the winner.
If a team fails to finish with a complete scoring team, the runners finishing shall be counted as individuals in the race result and be eligible for the individual prize money.
In case of a tie
In the event of a tie, it shall be resolved in favour of the team whose last scoring member finishes nearer to first place.
The World Athletics Half Marathon Championships is an biannual (from 1992 - 2010 annual) half marathon organised by World Athletics.
The competition was launched as the IAAF World Half Marathon Championships in 1992. It was renamed the IAAF World Road Running Championships in 2006 and reduced in distance to a 20K run, but reverted to the half marathon distance the following year and to the original competition name the year after that.
Renamed
The competition was renamed to its current title in 2020 after the governing body rebranded itself moving away from the long-standing International Association of Athletics Federations (IAAF) moniker..