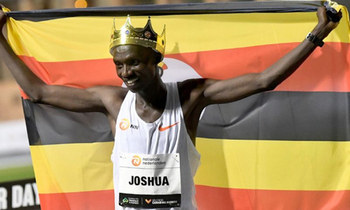 Today, Saturday,
World Half Marathon
Gdniya, Poland
mid-day (women's race)
12:30pm (men's race)
Coach Benjamin Njia is not the kind to get his predictions wrong.
The Uganda Police coach has since the start of the season rightly forecast Joshua Cheptegei as a world record winner.
Njia has again predicted that Cheptegei will also win the World Half Marathon today in Gdniya, Poland.
It all started off in February when Njia said his athlete would set a new 5 kilometer road mark, and it did indeed happen.
Next was the 5,000 meter record. Then he was spot on again last week when he predicted that Cheptegei would shatter the 10,000m record.
"We have been working towards a clean sheet this season. So, don't be surprised if on Saturday Uganda has its first world 21km champion," warned Njia before the team's departure on Wednesday.
Njia notes that one of Cheptegei's strongest challengers could well be his youngest team-mate, Jacob Kiplimo.
Besides a a men's side, Uganda also has a full women's side in the one day event.
The 19-year-old has also been in sensational form this year, clocking a world-leading Ugandan record of 7:26.64 for 3000m in Rome and setting a 5000m PB of 12:48.63 in Ostrava.
His last clash with Cheptegei was at the 2019 World Cross Country Championships, where he shared the lead for much of the way before finishing second behind his compatriot.
Before that, however, he had comfortably beaten Cheptegei at the Ugandan Cross Country Championships and the Cross Internacional de Italica in Seville earlier that year.
Kiplimo also has the slight advantage of having previously contested a half marathon; he ran 1:01:53 at altitude in Kampala at the end of last year, winning by more than a minute.
To date, Uganda has won just one medal at the World Half Marathon Championships - bronze in the men's team event in 2004 - while the country's best individual placing was Wilson Busienei's fourth-place finish in 2006.