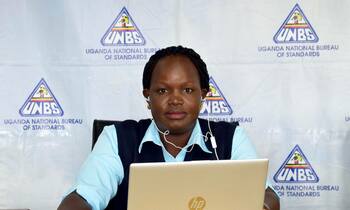 KAMPALA - Uganda joined the rest of the world, on Wednesday to celebrate the world standards day, amidst warnings by the standards watchdog to penalize traders and local manufacturers found in contravention of the already set product standards.

The Uganda National Bureau of Standards (UNBS) said it would step upmarket surveillance inspections to ensure that substandard products are removed from the market to protect the health and safety of consumers.

UNBS said surveillance has been stepped up to cover more than 56% of the entire country, with a little more effort needed to cover more products, their manufacturers and border crossings.

"We want to ensure that all consumers are protected, but also to help the manufactures because these standards will enhance competitiveness and increase access for locally manufactured products to regional and international markets," the UNBS publicist, Sylvia Kirabo said.

She said the products that must be certified before they are allowed on the market include foods, drinks, electronics, cosmetics, steel products and cement, confectionaries (bread and biscuits), apiary and mattresses, among others.

According to Kirabo, UNBS has developed 3,948 standards, covering Food and agriculture, Engineering, Chemicals and consumer products and management and services at national, regional and international levels.

She said in the 2019/20 financial year, 505 new standards were developed to support key sectors of the economy and act as a catalyst for economic growth.

"In line with this year's World Standards Day, themed "protecting the planet with standards," UNBS has developed over 48 standards on environmental management, 30 photovoltaic/solar standards, seven biogas standards, two charcoal and charcoal briquette standards, one energy-efficient stoves standard and two energy labelling standards in a bid to protect the environment," she said.

She said once implemented, these standards would promote sustainability, by preparing the ground for renewable energy usage and integration into the electricity grid, paving the way for circular economy processes, including the recycling and reuse of materials.

"Their broad use, therefore, reduces the environmental impact of industrial production and processes, facilitates the reuse of limited resources and improves energy efficiency, thus protecting the planet," she said.

Andrew Othieno, Manager Standards Development said despite the disruption due to the COVID-19 pandemic, UNBS has accelerated the digital transition to improve standards development processes through the use of online tools such as ISOlutions, SiMo and online meeting platforms.

"Our pilot online meetings and stakeholder engagements have so far been successful and we hope our stakeholders and especially the private sector will be able to transition and increase participation in standards work," he said.

To contribute to the implementation of the Buy Uganda Build Uganda (BUBU) Policy, he said, UNBS is working closely with Micro, Small and Medium Enterprises (MSMEs) to improve their products and systems that impact the environment and enable them to acquire certification.

He said consumers are required to look out for the certification status and labelling information on products before purchasing them to ensure that the goods bought conform to the standards that protect the environment.