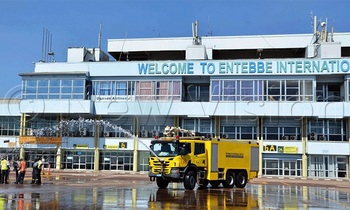 Aviation Police has intercepted a total of 44 youths at Entebbe International Airport while being trafficked to Dubai, according to Kampala Metropolitan Police spokesperson, Patrick Onyango.
According to Onyango, 43 of them were youthful girls and a man.
He said the group was departing the country via a Flydubai flight on tourist visas. No suspect has been arrested so far and the hunt is on for the alleged traffickers.
"They all recorded statements explaining their departure and were later ordered to return to their homes pending investigations," Onyango said.
"Ironically the majority of these 'tourists' after being offloaded did not have any money to transport them back to their homes," Onyango observed.
The Uganda Association of External Recruitment Agencies (UAERA) which has been working hand in hand with the Police and other security agencies at the airport to fight human trafficking came in to assist the young ladies by giving them the necessary counselling and transport back home.