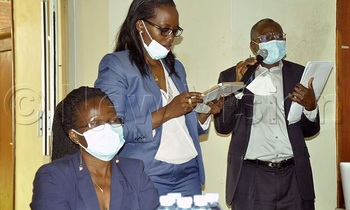 AGRIBUSINESS
A team of researchers from Makerere University have called upon government to consider funding poultry farmers in order to compete in the international market.

The team which is led by the professor Bernard bashasha, the principal college of agriculture and environmental science, Dr. Rosemary Emegu, the principal investigator egg processing project, Caroline Kamugira, the project manager, Makerere Research Innovation Fund and others, noted that the egg value chain in Uganda remains largely underdeveloped and uncoordinated which needs government intervention.

"Imagine the value chain is currently constrained by costly and poor-quality inputs, low levels of productivity, underfunding and high poultry disease burden, such problems make poultry farmers loose on the international market". Bashasha said.

Speaking during the dissemination workshop on exploring egg processing as a sustainable market solution for Ugandan poultry farmers during the post covid-19 pandemic, Noreen a masters' student in agribusiness noted that the value of eggs in Uganda depreciated during the lockdown leading to losses for poultry farmers.

It is from that background that Government should consider giving poultry farmers cash to add value to their egg products as they compete favorably on the international market.

According to the 2018 research from the Uganda Bureau of statistics, the poultry sector in Uganda produced approximately 907.1 million eggs per year with 60% of the eggs being exported to Kenya .

''Because of the covid-19 pandemic, poultry farmers were not able to sell their products which calls for urgent attention towards agricultural value chains including the egg value chain.

Among the products poultry farmers can get from eggs include egg shells, liquid egg white and liquid egg york; powder egg shall and powder egg white.

Munabi also noted that due to restrictions associated with the pandemic, the price of shell eggs dropped by 33% from sh9, 200 for a tray in March this year to sh6500.

The research therefore indicated that if the poultry farmers were empowered there would be profitability, and sustainability of egg-processed products in the country, which will contribute to the household income in the country.