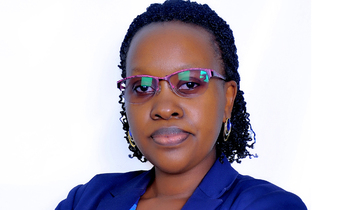 Disaster risk reduction amidst COVID 19
By Rebecca Nabatanzi Sserwanga
Every October 13, the world marks the International Day for Disaster Risk Reduction (IDDR) to promote a global culture of disaster risk reduction. It is an opportunity to acknowledge the progress being made toward reducing disaster risk and losses in lives, livelihoods and health.
In view of the impact that disasters have occasioned on people's lives and livelihoods, this year's theme is about conveying the message that many disasters can be avoided or prevented if there are disaster risk reduction strategies in place to manage and reduce existing levels of risk and to avoid the creation of new risk. What this amounts to is good disaster risk governance. Governance in Disaster Risk Management has got four major elements namely: Stakeholder involvement, Cooperation and collaboration and flexibility. In line with these elements of risk governance, Uganda is celebrating the IDDR under the sub theme "Governance: A key for Managing Disaster Risks, Sustaining Development Gains"
The Constitution of Uganda Paragraph XXIII of the National Objectives and Directive Principles of State Policy obliges the state to institute effective machinery for dealing with any hazard or disaster arising out of natural calamities or any situation resulting in the general displacement of people or general disruption of normal life.
The Department of Disaster Preparedness and Management (DDPM) in the Office of the Prime Minister (OPM) is responsible for coordinating national preparedness, response and management of disasters across the country so as to build resilient communities.
In line with the 2020 IDDR theme on governance, the Department has built effective and coordinated institutions through a number of initiatives including: developing effective legal frameworks through revision of policies; generation of relevant Bills and Policies for consideration and passing by Parliament; enhancing Disaster Risk Management(DRM) capacities at national, district and community levels; maintaining a well- equipped and effective National Emergency Coordination and Operations Centre (NECOC) and an effective National Integrated Early Warning System (U-NIEWS).
With the support of partners, the department is implementing special projects and programmes aimed at building resilience of communities in different parts of the country. One of these is the United Nations Development Programme (UNDP) supported programme on Strengthening Community Resilience to Climate Change and Disaster Risks(SCORE) project. Implemented by OPM and partners (Ministry of Finance, Planning & Economic Development (MFPED), Ministry of Lands, Housing & Urban Development (MLHUD), Ministry of Agriculture, Animal Industry and Fisheries (MAAIF), Uganda National Meteorological Authority (UNMA) and National Planning Authority (NPA), the project aims at ensuring that natural resources management and energy access is gender responsive, effective and efficient, reducing emissions, negating the impact of climate-induced disasters and environmental degradation on livelihoods and production systems, and strengthening community resilience.
In line with the governance theme, SCORE has supported the government of Uganda to address gaps in policies and legal frameworks for climate change response and disaster risk reduction. Together with Office of the Prime Minister, SCORE has supported the: revision of the National Disaster Policy and National Disaster Preparedness and Management Bill; Hazard, risk and vulnerability (HRV) profiles have been updated to enhance efforts towards disaster risk management; development of the National Vulnerability Risk Atlas that will guide and support decision makers to make evidence based, risk informed investment and development planning across different sectors; and the National Oil Spill Contingency Plan that establishes a system for oil spill preparedness and response.
With Ministry of Water and Environment, SCORE has supported the: development of a climate change law and facilitated government participation in Conference of Parties (COP) meetings
Together with Ministry of Lands, Housing and Urban Development (MLHUD), government has developed a National Urban Climate Change Profile. The Profile provides urban policy and decision makers at the national level and in local governments, as well as practitioners with evidence base on the vulnerabilities of urban systems to the current and future impacts of climate change and helps promote climate compatible urban development. Arising from the profile, MLHUD now has Lands, Housing and Urban Climate Change mainstreaming guidelines. These will guide the mainstreaming of climate change concerns into Uganda's lands, housing and urban development sector as well as in urban local government/city planning and budgeting processes. The guidelines are designed to integrate climate change considerations into sector and city planning processes so that decisions and investments can be made with an understanding of the current and projected climate. The Profile and guidelines have been disseminated in West Nile region (Arua, Nebbi, Koboko, Maracha, Adjumani, Moyo and Yumbe) and Fort Portal Municipality and have guided the development of Climate and disaster risk inclusive and resilient urban physical development plans in some of these areas.
To enhance policy implementation, SCORE has contributed to: improved coordination, information sharing and inclusive participation through the National Disaster Risk Reduction Platform. Enshrined within the National Policy for Disaster Preparedness and Management 2010, the platform is the Inter-Agency Technical Committee that provides: coordination, analysis and advice on disaster risk management (DRM) and mobilizes knowledge, skills and resources required for mainstreaming DRM. By facilitating dialogue and partnership with different stakeholders, government ministries, departments, civil society organizations, and the private sector, the Platform plays a critical role as a multi-stakeholder mechanism in supporting the Government of Uganda in making the strategic shift from reactive disaster response to a proactive DRM approach. Similarly, the project has also facilitated the National Climate Change Platforms.
Strengthened and integrated early warning information
Together with UNMA, historical data has been digitized to reduce data gaps and improve forecasting. This has improved climate data availability for climate change analysis for adaptation and increased the capacity of national meteorological and hydrological services in climate data analysis for application in the fields of health, agriculture, DRR and water resources. Furthermore, in line with disseminating and promoting use of climate information, UNMA has documented the indigenous forecasting indicators used by different communities in Uganda so that they can be researched on and integrated in modern science to come up with a hybrid forecast for planning and decision making in agricultural and other social-economic activities. In addition, weather information champions have been trained so as to strengthen the dissemination and application of weather and climate information in the Central and Eastern regions (Jinja, Kamuli, Kaliro, Namutumba, Buyende, Luuka, Iganga, Bugiri, Namayingo, Busia, Budaka, Kibuku, Mayuge and Pallisa)
Mainstreaming Climate Change and Disaster Risk Reduction in Sectoral and District Planning
SCORE has facilitated mainstreaming of climate change and disaster risk reduction into district development plans through a number of ways: disseminating the agriculture sector mainstreaming guidelines in Karamoja region, Central region and national level. The National Planning Authority has trained 10 new District Local Governments on mainstreaming climate change in development planning and budgeting.
Similarly, the OPM supported local governments to develop Community based disaster resilience and emergency response plans for selected high risks communities of Manafwa and Bulambuli. This is aimed at strengthening the flow of information and linkages of activities between household members at the village level with the District Disaster Management Committees (DDMC).
In conclusion, SCORE project has enhanced the policy, legal and regulatory framework for climate change response and disaster risk reduction and has facilitated government to meet regional and global commitments for Climate Change Response and Disaster Risk Reduction. The importance of integrating climate change response and disaster risk reduction in policies, plans and budgets of MDAs and local governments has been emphasised. Whereas government has been able to participate in international policy agenda on climate change issues, there is still need to build the capacities of COP negotiators to ensure better policy engagement outcomes for the country. At national level, the finalisation of policy instruments such as the Disaster and Climate Change laws is very urgent and critical for implementation. Regarding mainstreaming, a number of sectors have not formulated sector- specific climate change mainstreaming guidelines. The emergence of new districts also points to the need for more HRV profiles and further sensitisation on mainstreaming CCR/DRR in District development planning and budgeting. In terms of implementation, there is an apparent need for a merger of climate change and disaster risk issues right from stakeholder engagement to developing mainstreaming guidelines that address both issues. Disaster Risk Reduction platforms should be inclusive of climate change practitioners and vice versa. Furthermore, there is need for more weather information champions across regions to ensure that communities can access and utilize timely and accurate weather information. With new cities on board, there will be need for support to develop Climate and disaster risk inclusive urban physical development plans. At local level, communities will need continued support to develop community based disaster resilience and emergency response plans. For all this to be effected, financing will be critical.
What is emerging though is that financing for climate change and disaster risk reduction remains a huge challenge that has not yet been adequately addressed at policy level.
The writer is the Climate Change/Disaster Risk Reduction Learning and Knowledge Management Specialist, SCORE Project, Office of the Prime Minister.