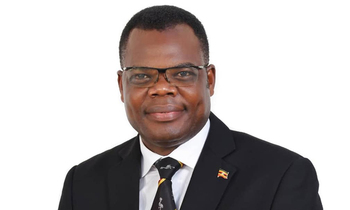 Uganda's former ambassador to the United States of America, Dickson Ogwang, has been granted a divorce from his wife, Miriam Pheona Otengo, after about eight years of marriage.
The divorce was granted by the Mengo Chief Magistrate's court on October 6, 2020. The divorce petition was filed by Ogwang on December 9, 2019, on grounds of physical violence, cruelty, emotional abuse, and adultery.
It should be recalled that Ogwang's marital woes became public in 2018 when he was deported by US authorities on grounds of domestic violence. He had spent only 10 months in office before the incident happened. It is alleged that he had battered his wife.
The incident was at the time confirmed by the state minister for foreign affairs, Henry Okello Oryem, who regarded the incident as unfortunate and said they will counsel the couple on how to handle their marital issues well in the future.
"I think both Ambassador Ogwang and his wife need help in this difficult time they are going through. We shall counsel both parties to help them handle their matters better in the future. We shall ensure that we assist the couple through giving advice," Oryem told New Vision at that time.
However, family sources say following the incident, things became worse prompting the couple to separate.
Otengo is a sister to Rebecca Amuge Otengo who is Uganda's Ambassador to Ethiopia. She was recently posted to Uganda's Embassy in the United Kingdom.
Genesis
Otengo and Ogwang had their traditional marriage in 2011 and solemnised it before the registry of marriages in Kampala in April 2014. The couple has two children together.
Sources said the marriage was a rocky one characterised by deception, promiscuity, disrespectfulness, and both emotional and physical violence.
When the marriage broke down, Ogwang, who now works in the Diaspora Department at the Ministry of Foreign Affairs, decided to file for the dissolution of the marriage.
In his petition, he accused his wife of adultery, verbal abuse, cruelty, physical violence, slander, and engaging in pornographic acts inconsistent with a married woman.
"While in Uganda, the respondent (Otengo) embarked on acts inconsistent with a married woman. These include getting involved in extramarital affairs with a Kenyan man she only called Onyango. She also got involved in partying, orgies and pornography," he said in his petition.
He argued that the marriage had irretrievably broken down because of the cruelty, blackmail, abusive and threatening messages and calls he got from her.
He said that Otengo at one point almost hit him with a bottle while in Bukoto, Kampala, and while in Washington DC, she slapped him and threw a sound speaker at him.
Ogwang also accused her of abdicating her motherly and marital responsibilities by abandoning her children and returning to Uganda.
He said at a clan meeting held in October 2018, they agreed that their marriage had broken down and Ogwang said he would not ask for a refund of the dowry he paid but asked for custody of the children.
In the petition, he asked to be allowed to retain the ownership of their home in Gayaza so that he can raise their two children, and that Otengo is allowed to keep the property at Naalya and the children she begot from other relationships.
Otengo, who did not dispute the petition, asked, in her response, for 80% of the property in Gayaza and a monthly stipend of sh4m for child support.
However, Ogwang argued that she had made no contribution to the property to warrant her rights over it. Ogwang was represented by city lawyer Francis Harimwomugasho while Caroline Nabbosa represented Otengo.
In his ruling, Grade 1 Magistrate, Hood Matovu, dissolved the marriage but granted the former couple joint custody of the children.
"While in the United Kingdom where the respondent where the respondent shall have primary custody, the respondent shall be responsible for maintenance of the issues as she will be entitled to allowances including education allowances provided by the Government of Uganda."
"When the issues are in Uganda, the petitioner shall play his full responsibility for the issues as a responsible father," Matovu ruled.
He deferred the issue of the property until one of the parties chooses to reopen the matter in court.
Who is Ogwang?
He is an experienced professional with a demonstrated history of working in the government relations sector for over 20 years. He is experienced in matters of law, non-profit organisations, conflict management, peace, and reconciliation practices.
He holds a law degree from Makerere University and a Master's in administrative science with a concentration on diplomacy and international relations from Farleigh Dickinson University, New Jersey.
He is also skilled in foreign affairs, politics, and the global economy.