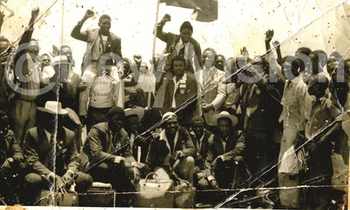 Vicky Byarugaba still has vivid memories of the day President Idi Amin paid the national boxing team a visit. "We were preparing for the 1974 World Championships one morning when our training was interrupted," recalls the former Bomber.




Byarugaba, then a light weight on the Cuba-bound team, says the session came to a standstill as the towering head of state strode into the Lugogo gym. With body guards and a Uganda Television crew in tow, the gym was suddenly crowded.

The room suddenly went silent. "This was a rare occasion. It was the first time the president was coming to our training. Some of the boxers were visibly in fear. A few of us were expectant. We had heard of stories of Amin's generosity." "Habari Yenyu (How are you)," Amin's booming voice filled the room.

After exchanging a few pleasantries with his former 1950s boxing team-mate Grace Seruwagi, who was now national coach, Amin was introduced to the boxers. "He then made it clear that he didn't want to disrupt what he described as valuable training. He said he had come to give us a few tips as a former boxer."

By 1974 Amin's dictatorship was already being felt not only by Ugandans but also beyond the country's borders. Sport was to the army general therefore one of those vehicles that would clean up his image.

But Amin, who had also played rugby, basketball besides boxing and swimming, was also a very competitive man, who was not about to see his sportsmen lose. "I want you to win medals in Havana," he told the attentive boxers.




Amin had even more for the boxers. He had what he described as a formula on how to beat Caucasian opposition, which he said was favoured by the also largely white jury. "Don't aim for wins by points because you will be cheated. Knock out your opponents. This will leave the judges with no option but declare you winners." This later turned out as a form of mantra that motivated Ugandan boxers to the country's golden era.

In the inaugural world amateur boxing meet in the Cuban capital Havana, Ugandan fighters indeed made good use of Amin's tips. Ayub Kalule became the first African to win a gold medal. Another Ugandan Joseph Nsubuga punched his way to a bronze as Uganda finished fifth overall and the best African nation. It was not the last time that Byarugaba and his team-mates would meet Amin.

At the 1974 Africa Amateur Championships at the Lugogo cricket oval Amin again got everyone by surprise. Those present expected him to declare the competition open with the usual speech from a head of state. Amin instead offered a boxing bout with national coach Seruwagi.

"I remember Seruwagi looking not only confused, but also scared," remembers Byarugaba noting that there had been no prior preparation. His coach had been ambushed. "Then, I also didn't know whether to actually punch the president or simply stand and get hit. I looked around and I could see mean looking security personnel surrounding the ring," said Seruwagi in a 2009 interview.




Embarrassing the head of state in the ring would have definitely had very bad consequences for Seruwagi, who had boxed with Amin on the national team in the 1950s. It was Maj General Francis Nyangweso, also a former boxer, who was at the time National Council of Sport Chairman, who saved the day.

"He advised Seruwagi to take a dive at the quickest opportunity," says Byarugaba. And indeed, Seruwagi did exactly that when Amin let off his first punch. "Seruwagi was on the back pedal right from the gong and was shortly afterwards diving for the canvas."

The tournament was declared officially open with a KO from the host president. For Amin, an East African heavyweight champion in the 1950s, there could be no better way to start off such a continental event.

In Part two tomorrow, read about when Amin withdrew the national boxing team midway an international tournament.

As published in the New Vision of October 02, 2017: Vision Group Resource Centre