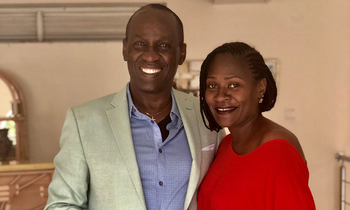 The legal profession in the country is mourning the death of Easter Nakaima Oguli a lawyer with the International Criminal Court (ICC) who slipped in her bathroom, rushed to hospital but later died in the Netherlands on Sunday.

Mike Mukula, the National Resistance Movement (NRM) Vice Chairman, in charge of Eastern who is also Oguli's relative confirmed her death.

He noted that "she fell in the bathroom and had been admitted in the Intensive Care Unit for a few days after brain surgery."

Mukula noted that Oguli had worked with Fatou Bom Bensouda as part of the support team and was rising through the ICC ranks very quickly.
I have lost a relative ESTA NAKAIMA OGULI (rip) a lawyer working with International Criminal Court (ICC) in Hague , slipped and fell in the bathroom & been in ICU for a few days after a NEURO surgery.She is in a better place 🙏 pic.twitter.com/Y13QReAHCl

— Mukula (@Mukulaa) September 27, 2020

Deogratius Odokel Opolot a relative of the deceased also noted that the late Oguli was the Case Manager at the ICC. "She lived in Holland almost for all her life where the unfortunate accident happened," Odokel said.

He described the late as a lively, outgoing, talkative and open-minded, friendly person. Odokel noted that the deceased reportedly fell in the bathroom two weeks ago and has been in ICU where the doctors found a blood clot in her brain.

She would later undergo an operation but her life deteriorated further. Odokel noted the late was born in Soroti and her mother followed an uncle who was staying in the Netherlands. The New Vision has learnt that the deceased is niece to Justice Hellen Oguli and a granddaughter in the Oguli family.

Family sources noted that she decided to take on the Nakaima nickname and added it on her names. By press time it was not yet clear whether her body would be flown back into Uganda for burial or taken to Kenya where she was reportedly married to a Kenyan national.

Oguli has become the latest casualty of bathroom incidents. Last month, former Kampala Mayor Nasser Ssebaggala was rushed to the ICU at the International Hospital Kampala following a bathroom accident.

Ssebaggala would later undergo an operation but passed on Saturday. He will be buried on October 4, which will be a Sunday.