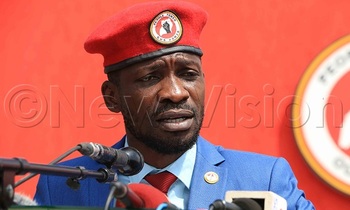 POLITICS
Court documents have revealed that Kyandodo East Member of Parliament, Robert Kyagulanyi alias Bobi Wine was skeptical about joining National Unity Platform (NUP) in 2017.
Kyagulanyi says in 2017, several prominent politicians and civic leaders persuaded him to join NUP as its flag bearer in the 2021 national presidential elections but he declined.
"I was not nominated as NUP presidential flag bearer in 2017 as claimed by the applicants," he contends.
However, Kyagulanyi says he accepted to join NUP membership recently and only became presidential flag bearer when he returned the presidential nomination forms unopposed on August 21, 2020.
Kyagulanyi's statement is contained in the court documents he submitted in the Civil Division of the High Court in Kampala on September 14, 2020, in a case in which two people sued him with other NUP members.
Kyagulanyi is being sued alongside former NUP president , Moses Kibalama, David Lewis Rubongoya, Aisha Kabanda, Joel Ssenyonyi, Flavia Kalule Nabagabe, Fred Nyanzi Ssentamu, Paul Ssimbwa Kagombe, Electoral Commission and the Attorney General.
The petitioners- Difas Basile and Hassan Twala, who claim to be the founders of National Unity Reconciliation and Development Party (NURP), claim their party name was changed to NUP illegally.
Kyagulanyi's statement was jointly drawn and filed by five law firms that include Wameli and Company Advocates, Lukwago and Company Advocates, PACE Advocates, Muwada and Company Advocates and Kiwanuka, Kanyago and Company Advocates.
Kyagulanyi, who describes himself as NUP president, contends that the applicants' application is frivolous, vexatious, misconceived, bad in law and untenable at law.
He has therefore asked court to dismiss the application with costs on grounds that the applicants have no right to bring an action, to be heard in court, because they are not NUP members.
"The applicants did not explore internal dispute resolution mechanisms before filing the application in court," Kyagulanyi said. He claims the application are full of falsehoods and inconsistences.
In his affidavit, David Lewis Rubongoya, the NUP Secretary General, revealed that he joined the party in 2019 and was handed over NUP registry on July 14, 2020.
Rubongoya explains that to be a member of NUP, one has to pay a membership fee, get registered and get a party card, which the complainants have never done.
He says eight persons are listed as party founder members exclusive of the applicants. Rubongoya says NUP extra delegates' conference held on July 14, 2020, was done following the party constitution.
"The applicants are on a fishing expedition with the sole purpose of tarnishing the reputation and the name of NUP," he asserts.

Suit
Through Ogwado and Company Advocates, the petitioners contend that it was illegal to change their party name without consulting them.
The complainants seek a court declaration that the resolution dated May 12, 2017 nominating Kyagulanyi, as NUP presidential flag bearer for the 2021 general elections is illegal and in contravention of the party constitution.
They want EC to de-gazette the change of the party name appearing under general notice number 838 of 2019 and re-instate NURP as the legally recognised party name with its colors and symbols.
Background
Court documents indicate that NURP was gazetted as a political party in Uganda on December13, 2004 and issued a certificate of registration on December 28, 2004.
The petitioners, however, purport that in 2019 without any color of right and in breach of the party constitution; Kibalama and EC illegally changed its party name to NUP and on July 14, 2020 illegally handed over its political leadership to Kyagulanyi and Kagombe.
The petitioners assert that Kibalama did not pass the requisite resolution to change the party's name under the NURP party constitution 2004.