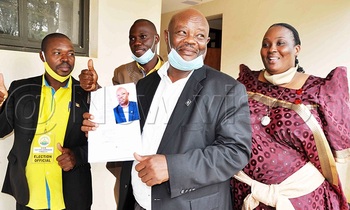 ELECTION WATCH
The battle for Wakiso Municipality has started with verbal wars, each candidate having higher hopes of winning.

In Kira municipality, temperatures are already high after the nomination of political veteran, Mamerito Mugerwa on Friday last week.

Mugerwa was once the mayor of Kira town council before it was elevated to the municipality status.

Before losing the seat to the current mayor Julius Mutebi, Mugerwa survived death at Kasokoso when residents ganged against him and burnt his vehicle.

However, regardless of what happened to him, Mugerwa has bounced back into the political race on the National Resistance Movement ticket (NRM) with hopes of winning the elections.

After nomination, Mugerwa addressed the media and promised transparency to the people of Kira municipality.

"Being a member of the ruling party, Mugerwa pledged to network with the central government for better services of the residents," he said.

His incumbent Julius Mutebi, the NUP coordinator in Kira municipality in an interview with the New Vision, boasted of putting many things in place which Mamerito's regime failed to do.

Another candidate who is also vying for the same seat is Norman Ssemwanga Kabogoza.

Kabogoza is standing as an independent candidate after losing to Mamerito in the NRM party primaries.

According to Kabogoza, there is a lot of land grabbing and other related land wrangles which need an immediate intervention.

Entebbe Municipality

The incumbent here is Vincent Kayanja Dipo from the Democratic Party.

He said the people of Entebbe municipality need not to change leadership now since they are preparing for city status which is expected very soon.

He pointed out that he has been so instrumental in achieving a city status.

Another contestant, Michael Mutebi, from the NRM said that the people of Entebbe got divided after the party primaries and promised to work towards promoting unity to develop Entebbe municipality.

He promised to serve the people of Entebbe without discrimination.