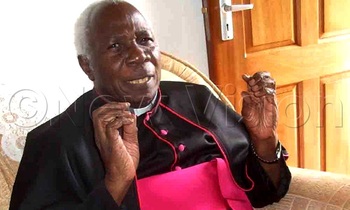 The catholic church is mourning the demise of one of its longest-serving priest, Msgr Charles Kimbowa. Kimbowa passed on Saturday at Nsambya Hospital.
He has been serving as the senior secretary to the Archbishop of Kampala, Dr Cyprian Kizito Lwanga.

According to the caretaker of Priests centre, Nsambya, Fr Joseph Ssebayigga, Msgr Kimbowa will be laid to rest on Monday, in Lubaga.

About Msgr Charles Kimbowa

He was ordained a priest on December 11, 1960, at Lubaga Cathedral by Bishop Joseph Louis Cabana.

On March 18, 1981, he became Monsignor. He has served for 59 years.

The late was the former secretary to Emmanuel Cardinal Nsubuga.

He was born to the late Peter Mayanja who was catechist and Rose Nabbowa Namuli, on March 19, 1931.

He started his early education at Naddangira primary school in 1940.

He then joined Bukalasa seminary, Masaka in 1944. He also taught at Kisubi Seminary.