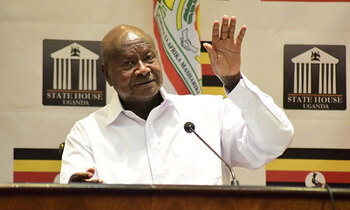 COVID-19 | RELIGION |

Authorities at State House have clarified that the Presidential directive on re-opening of places of worship took immediate effect.

President Yoweri Museveni addressed the nation on Sunday to give the status of COVID-19 in the country.

During his address, the President said worship places would be allowed to open but under some measures, including permitting not more than 70 people at a time.

However, several messages have been circulating on social media claiming churches and mosques should open either on October 5 or October 15.

The Senior Press Secretary to the President, Don Wanyama, told New Vision that the directive took immediate effect.

"There are different messages making rounds concerning H.E. President Museveni's message on the re-opening of prayer places. The re-opening took immediate effect but congregations were guided not to exceed 70 at a time," Wanyama said.

"Church leaders must ensure this directive is adhered to along with other SOPs of social distancing, wearing masks and washing hands before entering places of worship," he added.

In his speech, the President guided that night prayer should not be allowed.