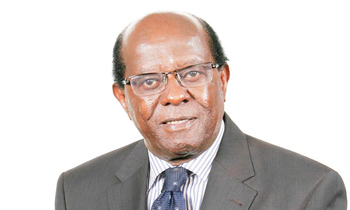 On Wednesday, September 16, the Rotary Club of Kampala West recognised John Nagenda's literary journey and presented him with a plaque. This honour was based on his weekly column in Saturday Vision in particular as he is best known for that column. Peter Mulira was asked to introduce Nagenda. Below are Mulira's remarks
We meet today to honour the literary journey of a distinguished son of the land. John Nagenda's public life is now an open book, thanks to his weekly column which appears in the New Vision every Saturday in which he entertains, insults, corrects and elevates the spirits in equal measure, all because he wants to see a better Uganda.
The executive of our club must be commended for choosing John to be our man of the month of August, which is set aside by Rotary International for literary projects.
This honour to Nagenda is meant to recognise his craftmanship in translating situations into words. Nagenda is a wordsmith and this in a foreign language, English. John's writing has been around for some time, indeed since he left Makerere University where he studied English with luminaries like the recently deceased President of Tanzania, Benjamin Mkapa, who became a lifelong friend.
On occasions, Nagenda and his wife, Marion, our former member, paid host to President Mkapa who would stay at their beautiful home in Muyenga, an honour rarely bestowed on a private citizen. The highest-ranking official who has ever visited my home is the local LC chairman, but he has never stayed over-night.
Nagenda has shown extraordinary talent in writing in the English language ever since he left university. Unfortunately, he kept this talent away from the public domain preferring to share it with a limited circle of writers until his friend, William Pike, convinced him to start a weekly column in the New Vision.
One Man's Week, as Nagenda's column is titled, has been running every Saturday for the last 25 years except when he is on home leave in the UK.
Nagenda is a genius with the English language. He has a way of constructing a sentence in a manner no one else does. In my youth, I adored the writings of Malcolm Muggeridge, who was once editor of the Manchester Guardian and later a commentator on social and political issues in various journals. I compare John's writing to that of Muggeridge's and that is no mean thing to do.
I am not alone in lauding it on John as a writer.
Back in the sixties, African writers suddenly hit the international scene. There were writers from South Africa like Ezekiel Mphalele, Lewis Nkosi, Bloke Modikane and others.
There were the likes of Chinua Achebe, Wole Soyinka and others from West Africa and the Ngugi wa Thiongo from East Africa. I mention these names because of the testimony of one of them about Nagenda.
One evening while I was a young student in London, I attended a party at the home of Ms Stella Joyce of Amnesty International. Lewis Nkosi whose work had just been highly commended in a full-page write-up in The Observer came to talk to me when he learnt that I was from Uganda.
Nkosi said to me "I understand you are from Uganda. Please tell John Nagenda to play less cricket and write more because he is a better writer than all of us", meaning the African writers who had hit the international scene. One cannot talk about John Nagenda without mentioning his relationship with cricket.
In his youth, Nagenda was a ferocious cricketer, perhaps the fastest bowler ever in East Africa. I remember the day he and I played cricket for Sir Andrew Cohen's team in a village in Hertfordshire in the UK.
Both of us did very well in all departments, but of course, he did much better, forcing Sir Andrew to muse at tea time about the achievements of Pax Britannia.
After Nagenda's ferocious bowling dismissed the village butcher, the hapless man walked off the field grumbling: "It is not fair. The ball is dark. The weather is dark and the bloody bowler is dark." John earned himself on that occasion the nickname of "Black Panther".
Nagenda was born in 1935 to Mr and Mrs William Nagenda. The elder Nagenda was an international evangelist of note, and we all wait with expectation for day Nagenda will follow his father in the service of the Lord.
He is married to a lawyer, Marion Katasi and with two children.
The writer is a lawyer