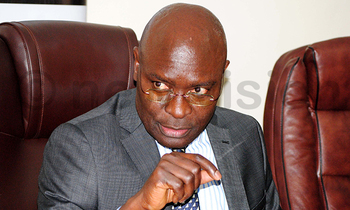 GENERAL ELECTIONS |2021|LC NOMINATIONS
Nomination of candidates for 2021 local government councils' elections starts tomorrow (September 21, 2020) until October 1, the Electoral Commission (EC) said, Thursday.

Justice Simon Byabakama, the chairperson, said the nomination will take place on weekdays beginning at 9:00am and ending at 5:00pm.

He said on September 21 (Monday), they will begin with chairpersons of district/city (LC5), municipality/city division at the district headquarters and those of sub county/town or municipal divisions at county headquarters.

Byabakama said those who want to be councillors for district/city, municipality/city division and subcounty/town/municipal division will all be nominated on October 1.

"The nomination will be followed by a campaign period leading to the polling days for the various elective positions from January 10 to February 8, 2021," he said.

Byabakama said the EC will abide by the constitutional provision and nominate candidates in fulfilment of the requirement of women representation being one-third.

The EC boss also said aspiring candidates should note that while the Constitutional Amendment Act of 2017 removed the lower and upper age cap for the candidates for President and district/city chairperson, it did not extend the same to municipality, city division, sub-county, town and municipal division chairperson.

"Municipality, city division, subcounty, town and municipal division chairperson aspirants must be not less than 35 years and not more than 75 years of age," he said.

Nomination fees

Byamukama said for one to contest for the district chairperson seat, they must be 18 years and above and must have a minimum academic standard of A'level or its equivalent.

He said they must also obtain 50 registered voters as their supporters from each of at least two-thirds of electoral areas in the district.

"They are required to pay a nomination fee of sh200,000," he said.

For those to be nominated for municipality chairpersons, Byabakama said they should get 20 registered voters from each electoral area and pay a nomination fee of sh100,000. He said they don't require any academic qualifications. He said the same applies to city division chairpersons.

"However, they should have 20 registered voters from each area and a nomination fee of sh50,000," he said.

For one to be nominated for district or city division councillor, they must be 18 years and above and should obtain at least five registered voters from each electoral area and pay a fee of sh50,000. However, they don't need any academic qualifications. This also applies to aspiring candidates for municipal division and sub-county councillorships.

He said aspirants for the position of councillor representing workers to local government councils should note that the Local Government Amendment Act does not require them to resign from public office before nomination.

Byabakama promised to talk about the nominations for MPs and set between October 12 and October 13 as dates for the exercise.