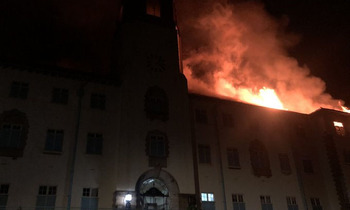 "It is a very dark morning for Makerere University. Our iconic main administration building caught fire and the destruction is unbelievable, but we are determined to restore the building to its historic state in the shortest time possible," tweeted Barnabas Nawangwe, Vice-Chancellor of Makerere University.
Makerere University's main building, the Ivory Tower, caught fire in the wee hours of Sunday morning, which fire spread and covered all floors of the right side of the building.
"This is hard for us to watch!" said the University, on their social media accounts, calling for prayers from the public, for the trying moment.
At around 4:00 am, efforts to save the left-wing of the building were being defeated by the highly powerful and forceful flames. The left-wing is custody of the Human resource/staff records of the university.
HISTORY OF THE BUILDING

The Main Building was completed in 1941 under the leadership of Mr. George C. Turner, Principal, Makerere College (1939-46).
Earlier in 1938, the Duke of Gloucester, representing His Majesty King George VI had cut the first sod for the construction of the building on November 3.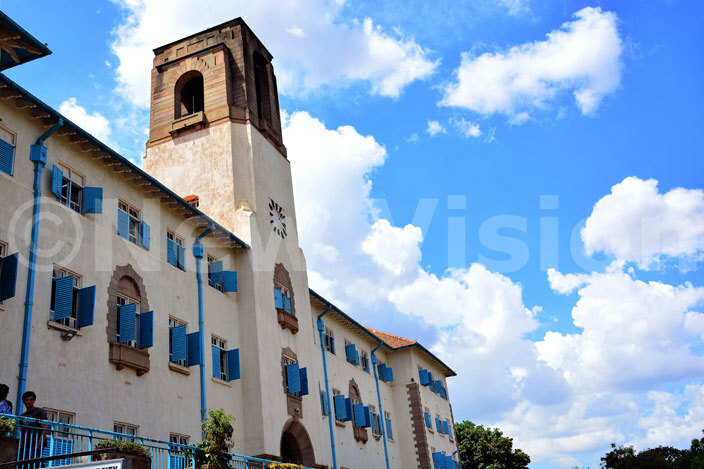 With its unique 20th century British architecture, the building is Makerere's most recognizable symbol.
It was constructed with funds from the Colonial Development bourse. The building's construction was greatly delayed by a scarcity of resources to purchase materials as Britain and her allies grappled with the expenses of World War II. As a result, some of the carpentry work had to be done on-site at the Technical College.
Picture and videos are courtesy of Makerere University