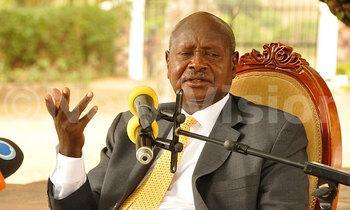 PRESIDENTIAL ADDRESS|COVID-19|MUSEVENI
President Yoweri Museveni will tomorrow (Sunday September 20, 2020) deliver yet another COVID-19 related address. This is according to the communication from the Presidency.

The Senior Press Secretary to the President, Don Wanyama on his twitter account said; "The Presidential Address on Covid-19 has been rescheduled to Sunday, September 20th, 8pm."

The address according to the earlier communication had been scheduled for Saturday night.

The President's last address on COVID-19 and lockdown relaxation was on July 21 at State House Nakasero and at that time Uganda's Covid-19 positive cases stood at 1072.

The cumulative total of confirmed cases has six times doubled since. According to the press statement released by the health ministry on Saturday the number now stands at 6,017 cases.

This is after 423 new cases were confirmed from the samples the ministry tested from alerts, contacts, returnees and points of entry on Friday.

The contacts and alerts contributed 411 cases from Moroto 166, Kampala 85, Butaleja 59, Mukono 27, Lira 14,Mbale 10,Wakiso 9, Luwero (6),Buikwe 5,Kisoro 4,Gulu 3,Bududa 5,Jinja 4,Kumi 3, Kanungu 1, Kapchorwa 4,Mpigi 1, Soroti 3,Mityana 1 and Sironko 1.

The 12 were returnees from Saudi Arabia (8), India (3) and Jordan (1). The recoveries stand at 2,581.

The total COVID-19 deaths are now 63 after the disease claimed two more in Kampala and Mpigi districts on Friday.

In the last address the President expressed concern that the country had entered the most dangerous Phase 3 of the epidemic with rampancy of community infections.

In the last speech the President indicated that some national lockdown measures implemented due to Covid-19 would be eased effective July 22, as the government sought to minimize economic disruption.

Boda bodas were allowed to carry passengers having been restricted to ferrying goods since March. However the restriction to operate up to 6pm remained in place.

Some non-essential businesses such as hair salons, and shopping arcades were allowed to reopen with immediate effect.

Meanwhile the President added that the arcades where health and hygiene measures were found inadequate by investigators would remain closed until they met the standards.

He also announced that the nationwide curfew effective July 22 would be shortened from 7pm to 9pm -6:30am.

However the other restrictions such as the suspension of international travels and a ban on public gatherings of more than five people remained in place.

He confirmed that flights from Entebbe International Airport will remain suspended until further notice. Sports facilities, Places of worship and entertainment venues also remained closed.

What the public is expecting

While responding to New Vision's social media #Big Debate on what the public wants the President to address, one Roderick Obeja wants border reopening including Entebbe Airport.

He also wants curfew to be lifted completely, schools and institutions re-opened.

William Musisi said; "I think these speeches are no longer making sense to this nation. It's high time we learn to leave with Covid-19 and open up all the sectors that are still closed.

Chris Yoppie said; "The state of other finalists going back to complete their/ our course please not only medical students are essential but even other's courses are vital depending on what we want to pursue in our lives. Is voting in crowds essential to finishing our course?"

Edith Namakula asked the President to be specific on whether the schools are going to reopen or not.

"If they are to open, which measures has the government put in place to avoid the spread of Covid-19. Schools should be given time to prepare and teachers trained on how to enforce those measures before opening."

One Hilda said; "Schools should be opened. Children, especially girls, are suffering and so are teachers. Also don't allow university institutions to charge the finalists."

Kepa Abonga said; "We just want him to open up everything except schools because education can be postponed but not life. We care about our children."