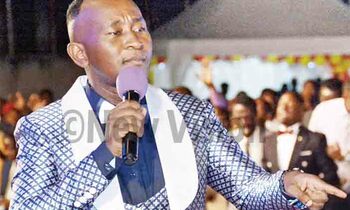 NEWS | RELIGION | COVID-19

Like the Bible says, a prophet always feels unwelcome in his home country. The same can be said of our home grown, self-proclaimed Prophet Elvis Mbonye.

The six-months lock down has not been kind to the 'Mehn of Gaaahd', who was used to hawling bags of cash from his followers to the bank every week and cannot believe the taps have been closed this long.

Moreover, no amount of prophesying has resulted in the re-openning of the taps... sorry fellowship, alongside other places of worship. Instead, a dispute over the tentative guidelines before easing the lockdown on places of worship, is threatening to keep them shut even longer.

Many religious leaders have openly opposed the situation and not to be left out, Prophet Elvis Mbonye went as far as talking to the British Broadcasting Corporation, expressing his discomfort with what he called science prevailing over God.

The good prophet now wishes he was a Tanzanian not a Ugandan. "If I am a fool for God, then it is right and just. I pick Tanzania over Uganda. Definitely, Tanzania over Uganda 100% model where the president, who is a scientist by the way, picked faith in God over science."

"Our motto says for God and my country not for science and my country," he added.

But we can't help but be suspicious of his motives for suddenly wishing to be Tanzanian. Afterall, the taps to his followers' pockets would never have been closed.