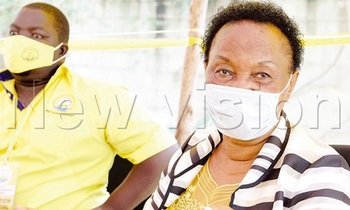 ELECTION WATCH | NRM
A number of forgeries cited in National Resistance Movement (NRM) elections were orchestrated by the candidates the party's electoral commission has established.

Commissioner Jane Alisemera Wednesday, September 16, 2020 said some election officers were lured into surrendering election declaration forms to candidates, who would then dash to Nasser Road in Kampala, print new forms and change figures in their favour.

"We obtained video evidence of such forgeries," Alisemera said.

Addressing a news conference at Kyadondo Road in Kampala, Alisemera cited a case in Rubaga South A, during the vote for female councillor, where an election officer first recorded 300 votes for a candidate and later changed by inserting numeral 1, changing the figure to 1,300, a number that was too high for a polling station.

Elections were cancelled and fresh polls took place Thursday, September 17,2020.

Her comments follow the retallying of votes in the hotly contested Rushenyi County, where it was established that both minister Mwesigwa Rukutana and his archrival, Naome Kabasharira, benefited from ghost votes at a polling station, where elections did not take place.

It emerged that Rukutana 'received' 172 votes against Kabasharira's 141 in Nyakahita village, Rugurama subcounty in Ntungamo district yet elections at this particular station polling were suspended after a scuffle ensued among supporters of both candidates.

The NRM primaries, held on September 4, were marred by disputes over the register and vote counting in some areas.

Results in some areas are yet to be declared due to disputes, while in other areas, the exercise was cancelled resulting in 378 petitions.

EC held a meeting with special interest groups candidates (youth and workers) on the modalities to be followed in the October 10, elections.

Youth and workers MPs are elected by an electoral college. For youth, sub-county chairperson, five district youth executive members and two councillors take part in the polls.

For workers, seven voters from each district, five of whom members of the workers' league and two councillors, will comprise an electoral college.

The chairperson NRM Workers League, James Tweheyo, said it was agreed that each trade union will be represented by five people to form an electoral college.

The voters will vote for five MPs, one representing female while the youth will pick five MPs.

Ragga dee wins

Daniel Kazibwe aka Ragga Dee was declared winner in the Kampala mayoral race after beating his sole rival in all five divisions of Kampala.

Kazibwe polled 56,877 votes (71.8%) against Ssebaana Kizito's 15,939 (21.9%).

Alisemera said in places where elections did not take place such as Mawogola North, Mawogola South, Ntungamo Municipality and Iganga, they will be held after September 20.

She said re-tallying and investigations regarding the elections of flag-bearer for the Rushenyi County and Mbale City woman seats are being expeditiously handled and a winner will be announced next week.