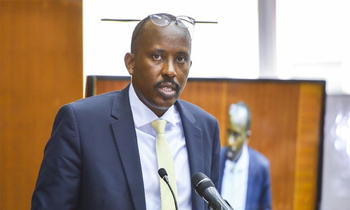 BUSINESS
KAMPALA - The Uganda Revenue Authority (URA) has registered another revenue collection surplus of sh354b for August.

URA Commissioner General John Musinguzi Rujoki has started the financial year on solid footing. Net revenue collection for August closed at sh1.4 trillion against a target of sh1.03 trillion. This followed an earlier sh278b surplus for July.

Cumulatively, in the first two months, the Government collected sh2.58 trillion. But the collection is less than sh2.65 trillion which was collected last year in the same period.

URA's spokesperson Vincent Sseruuma said the good performance is partly attributed to the pick-up in economic activity following the easing of lockdown restrictions. He also partly attributed it to the introduction of the digital tracking mechanisms, especially in factories which he said helped them to solve the problem of under declaration of taxes.

He said the best performing sectors included beer production, telecom sector, construction sector, insurance and financial services as well as international trade.

"We have re-organised ourselves administratively by creating specialized teams that focus on data analysis and use of technology to improve revenue collection. We have also strengthened our controls on international trade which has enhanced collections from import duty," Sseruuma explained.

A source within the Government intimated that whereas there is every sign to show that the economy is recovering, people should not jubilate over the revenue surplus yet.

Ian Muhimbise Rumanyika, the URA public and corporate affairs manager said more efficient new tax collection measures such as the digital tax stamps and the electronic fiscal receipting and invoicing system are paying off.

"Businesses are recovering after the impact of COVID-19 measures. Companies that had halted payment following the Government's measures are now paying," he said.

Rumanyika added that strategic and efficient internal administrative measures and focus on promoting integrity have translated into revenue yield and a sh632b cumulative surplus for July and August.

In August, gross collections from domestic taxes amounted to sh802b against a target of sh638b, registering a surplus of sh164b. Direct domestic taxes (PAYE, corporation tax, individual income tax, withholding tax and rental income tax) performed at 135.61% with surplus of sh97b, while indirect domestic taxes performed at 138.75%, registering a surplus of sh102b.

Meanwhile, non-tax revenue collections performed at 115.91% a surplus of sh6.9b, whereas appropriation in aid performed at 28%, registering a deficit of sh41.6b.

International trade taxes performed at 145.39% with gross collections of sh613b against a target of sh421b.