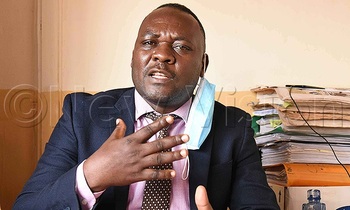 MURDER CRIME
Five-year-old Faith Kyamagero, of Masaka city who was beheaded early this week, was first defiled, according to the Police.

One suspect, Joseph Nuwashaba, was later arrested at the gate of Parliament in Kampala, with Kyamagero's head.

Before he was intercepted, Nuwashaba claimed that he was carrying a gift to the Speaker of Parliament.

Criminal Investigations Directorate (CID) spokesperson Charles Twiine, addressing journalists at the Uganda Media Centre yesterday, said the girl was defi led before she was beheaded.

"You can imagine defiling a five-year-old child, what kind of human beings do we have? Twiine asked.

"We want to condemn this act. It is incomprehensible, it is deplorable and it really disturbs the minds of Ugandans that we still have such criminals that target innocent children."

As investigations continue, New Vision learnt yesterday that the Police has separately extracted blood samples from Pastor Charles Ssenyonga and his wife, Gloria (Ssenyonga) to establish paternity of Faith Kyamagero.

Ssenyonga's samples were drawn on Tuesday from Kampala while Gloria's were extracted by experts from Masaka and later transferred to the government analytical laboratory in Kampala for a Deoxyribonucleic Acid (DNA test).

A DNA test is intended to confirm paternity, among other things.

Nuwashaba is being detained at the Police's Special Investigation Division (SID) in Kireka, Wakiso district — where he has been undergoing questioning by both the Police and Chieftaincy of Military Intelligence (CMI) operatives.

According to Twiine, a team of investigators has been tasked with establishing whether Nuwashaba orchestrated the heinous act singlehandedly and what his motive was.

"We are interested in finding out — why of all places, he (Nuwashaba) intended to bring the head to Parliament," Twiine said.

The Police has since confirmed that the head belonged to the torso which was dumped at the fence of the National Water and Sewerage Corporation (NWSC) offices in Masaka.

"We have the suspect in our custody and we want to, once again, pledge to the community and all Ugandans that we shall do rigorous investigations to ensure that the culprit is arraigned in court," Twiine said.

He added that Kyamagero's body is still with the Police pending DNA test results over paternity. Twiine also indicated that they are following up intelligence information that Nuwashaba could have been involved in ritual murders.

On Monday, during interrogation, Nuwashabaallegedly claimed that he was paid sh80,000 to deliver the said 'gift' to Speaker Rebecca Kadaga.

"The details will be corroborated with scientific evidence before we can conclusively pronounce ourselves on the matter (who gave him the package) , " a source privy to the investigations, said.

According to CID boss Grace Akullo, at about 10:00am on Monday, Nuwashaba arrived at Parliament, carrying a box containing an item in an orange giftwrapping.

At the checkpoint, he was asked about the wrapped item. In his response, according to Akullo, the suspect said: "It is a gift I have brought for the Speaker."

"When the investigators demanded to see the gift, they discovered a human head. As a policy, all gifts to legislators are checked by security," Akullo explained.

In her communication to the House on Tuesday, Kadaga asked the Police to expedite the investigations into the incident and advise Parliament.

Kadaga did not mention details of the incident, but noted that the man was arrested with a "strange" item.