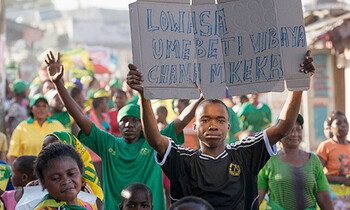 ELECTIONS|POLITICS|TANZANIA
DAR ES SALAAM - The government of Tanzania said on Tuesday it has allowed 15 foreign countries with embassies in the east African nation to bring in international election observers for the Oct. 28 poll.

A statement by the Ministry of Foreign Affairs and East African Cooperation said the government made the decision as the 15 embassies had submitted applications for bringing in international election observers after meeting required procedures.

The decision was announced by the country's foreign minister Palamagamba Kabudi during talks with Manfredo Fanti, head of the European Union Delegation to Tanzania.

The statement did not mention specifically the 15 foreign countries. Kabudi told Fanti that the general election to choose the president, Members of Parliament and councilors will for the first time be 100 percent financed with local resources, while previous elections were largely financed by Tanzania's development partners.