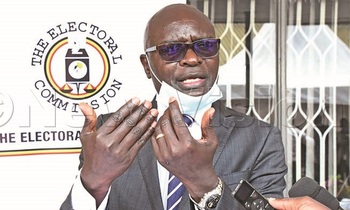 The Electoral Commission (EC) has approved nominations for MPs to be conducted between October 12 and October 13.
Presidential candidates will be nominated on November 2-3. Contenders for local government positions will be nominated from September 21 to October 1.
Acting EC spokesperson Paul Bukenya over the weekend confirmed the changes, saying an official communication will be released.
The new nomination dates have come against a backdrop of frantic preparations by various political parties to conduct internal elections and other related political processes to select flag-bearers.
For some political parties, such as the ruling National Resistance Movement (NRM), internal elections for parliamentary and local government flag-bearers, have been concluded.
For the position of the party chairperson and presidential flag-bearer, the NRM central executive committee (CEC), the national executive council (NEC) and national council, last month endorsed President Yoweri Museveni.
By last week, EC officials said about 76 aspirants had declared their intention to stand for President in the 2021 general election and also notified EC of their plans to start consultations. Article 103 of the Constitution says for a presidential contender to be nominated, such a person must gather signatures of one hundred voters from at least two-thirds of all the districts in the country.
However, some contenders have argued that in the face of measures rolled out by the Government to curb the spread of COVID-19, the requirement is hard to fulfil.
According to EC's list of presidential aspirants, the Alliance for National Transformation (ANT) has fronted former army commander Maj. Gen. Mugisha Muntu, the National Unity Platform (NUP) has Kyadondo East MP Robert Kyagulanyi aka Bobi Wine.
Other opposition parties, such as the Democratic Party (DP), Uganda People's Congress (UPC), JEEMA, Conservative Democratic Change (FDC) are yet to front presidential contenders. For UPC, party president Jimmy Akena, who is also the Lira Municipality MP, said last week that the party would not front a presidential contender.
Akena will, instead, be competing for the Lira City North MP seat. JEEMA president Asuman Basalirwa, who is also the Bugiri Municipality MP, said his party would back Bobi Wine. On the other hand, DP and FDC are fast-tracking preparations for the delegates' conferences to elect their presidential flag-bearers.
Within FDC, the battle over who will become the party's presidential flag-bearer is between party president Patrick Oboi Amuriat and party chairperson Wasswa Birigwa. The exercise kicked off after former presidential candidate and FDC kingpin Dr Kizza Besigye declared that he would not be on the ballot.
Within the Opposition, nominations for MPs are ongoing as various contenders struggle to clinch the various party flags.
NUP opted to interview contenders and weigh their capabilities, rather than organising internal polls for party members to vote for flag-bearers for the parliamentary race. Last week, the EC concluded demarcating electoral areas, polling stations. including the over 300 constituencies.