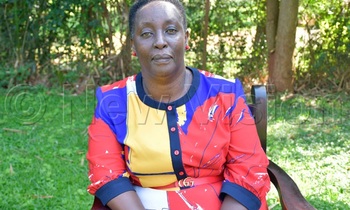 POLITICS | ENTEBBE

Rosemary Tumusiime, the Entebbe municipality Member of Parliament (MP) has conceded defeat in the just concluded National Resistance Movement (NRM) primaries.

Tumusiime, who has served in Parliament for one term, was floored by Steven Syaka, the only male candidate in the race. Shaka garnered 2,970 votes against Hon. Tumusiime's 1,250 votes.

In her congratulatory message to the winner, Tumusiime re-echoed her commitment and loyalty to the party, saying she will remain a true icon of peace, a strong NRM cadre and pillar, all challenges notwithstanding.

"At the end of the day, God's will surpasses all. I remain grateful to you all for the opportunity to serve my municipality as a legislator at the highest national level. I sincerely congratulate Mr. Steven Shaka, the incoming NRM flagbearer for MP Entebbe municipality for 2021-2025," Tumusiime said.






On the other hand, Shaka expressed gratitude to what he described as a profound team of educated, eloquent, experienced, respectable and equally able candidates who participated in the NRM flag bearer race.

"I look forward to discussing how we can collectively participate as solution providers for our people of Entebbe municipality," stated Shaka. Others who participated in NRM primaries are Madinah Zalwango, Patience Mubangizi, Florence Tukei and Peace Biringiro. They scored 583, 239, 196 and 195 votes respectively.

A three-time Councilor representing Central ward in the municipal council, Rosemary Bikaako Tumusiime rose to Parliament after the 2016 general elections. Considered among the bush-war heroes, Tumusiime joined active politics as soon as NRA (NRM) captured power in the year 1986.

Sitting on a local council (known as RC by then), where she worked as a secretary before representing Entebbe at Mpigi district council in 1991 (when Entebbe was still under Mpigi district).

She was later elected councilor for Central ward in Division A, representing Nakasamba, Kitaasa, Kakeeka and Bugonga, before vying for the big office in Parliament.

Steven Shaka is one of a set of triplets, born to Venanta and Joy Gashaija 37 years ago, in Entebbe municipality. A partner with Tropical Advocates, he also worked as a personal assistant to Justice Anup Singh Choudry before he was employed in the ministry of finance.