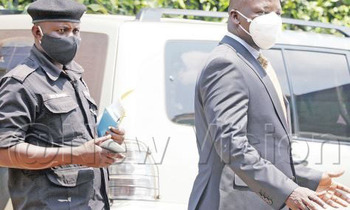 WORLD|TOURISM DAY|BICYCLES|UWA
TOURISM - Nature enthusiasts are set for a symbolic 200km bicycle ride from Kampala to Fort Portal in western Uganda as part of events to celebrate this year's World Tourism Day.

The climax of the events will be marked on September 27, in Fort Portal, the tourism city, under the theme Tourism and Rural Development.

"This theme is important because it focuses attention on the plight of the rural communities and the contribution the tourism sector can make in uplifting them," the state minister for tourism, Godfrey Kiwanda, said.

"Fort Portal is not only a tourism city, but it also has immense examples of communities that have been transformed because of tourism. We want these communities to be an example for the rest of the country; that we necessarily don't have to destroy nature for development to take place, but it can in turn contribute to the growth of our communities," Kiwanda said.

Kiwanda said the trip to Fort Portal that will be flagged off in Kampala on September 24, will be joined by Uganda tourism ambassadors Edirisa Musuza aka Eddie Kenzo and Zari Hassan.

"After Mityana town we shall have several stopovers at several tourist sites, for example Embuga ya Nambi, Walumbe Ttanda and the Nakayima Tree in Mubende. We shall have a sleepover in Kibale National Park and the following morning, we shall ride to Fort Portal," Kiwanda added.

Hope for Tourism Sector

With tourism being the highest foreign exchange earner in Uganda, Kiwanda said they are keen to reverse the ruin caused by COVID-19.

He said the COVID-19 lockdown measures across the globe have cost Uganda roughly $1.6b in cancelled and postponed tour destinations.

He expressed optimism that the sector will recover once proper marketing is done and Entebbe Airport reopened to tourists.

As part of the strategy to attract tourists, Uganda Wildlife Authority (UWA) executive director Sam Mwandha said: "If a tourist is visiting for three days any of our facilities country wide, they'll pay for only two days."

The marketing manager, Uganda Tourism Board (UTB) Claire Mugabi, said their priority is on "positioning Uganda as a safe tourist destination and reviving visitor confidence by observing all COVID-19 standard operating procedures in all national parks and other tour destinations."

Last week, UWA announced it had reopened its national parks to tourists.

"We have opened under standard operating procedures (SOPs) for tourism," Uganda Wildlife Authority public relations officer Simplicious Gesa, said. "If we follow all SOPs we will greatly protect wildlife, the workers and tourists."

He added: "Tourists should not hesitate to come out for fear that they will not be protected from the spread of COVID-19."